Vikram Garg

By
.(JavaScript must be enabled to view this email address)
Friday - November 18, 2009
Share
|

Del.icio.us
|

Podcast
|
WineAndDineHawaii.com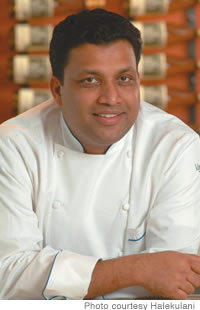 Job Title: Executive Chef, Halekulani
Where were you born and raised? Born and raised in India. I traveled extensively, and trained in France and Southeast Asia.
I imagine that food played an important role in your life.Yes, of course. I grew up in a family where food was the most important thing. My mom is a great cook. I love her food. I grew up eating all vegetarian food - that was wonderful. The stove in our house would literally be on for 18 or 20 hours a day, and we rarely had fewer than six or seven different dishes for dinner. There was always something cooking. It was all about seasonal cooking and fresh food from the market.
So what do you think of the fact that you can eat anything at anytime now? I believe we should eat seasonally as much as possible. It's nature. I don't believe that there's anything better than natural, fresh food. Think global and eat local. That's my belief.
Do you have memories of favorite dishes or meals? Yes. Once in St. Martin in the Caribbean, on the dock there was a little restaurant where I had a piece of snapper with tomatoes and a little bit of pepper and olive oil. I had tried to re-create it, because taste and flavor stay with me today, but I cannot. This was in 2001 and I still remember it. There was something about the moment, the ambience, the sun, the wooden dock and the boats ... I don't think I will ever forget that meal, but I cannot re-create the same dish.
Do you cook at home? Yes, that's why my wife married me! And now we have children who are very interested in food. There are days when they tell me exactly what they want. My kids have never eaten baby food or formula of any kind. We never bought anything for them - everything we've given them has been natural and made at home.
Favorite restaurants in Hawaii? As a chef, that's always a difficult thing to say. I like Alan Wong's - his food is great. Le Bistro in Niu Valley is wonderful. There are many wonderful places here, but Le Bistro is certainly one of our favorites.
Have you tried the Indian food here? Yes. I like Bombay, but I can't really comment on the Indian food here because my mom is such an outstanding cook and there's no other Indian food that really compares to hers.
Is cooking an art or science? Equally art and science for me, 50/50. You can be a very good cook without any artistic talent, but you do eat with your eyes first, so the art part is important. Beauty and admiration are an essential part of the process.
With whom would you most like to have (had) dinner? Mahatma Gandhi.
What's always in your fridge? Organic milk for the kids, local beers for me. I love wines, so good wines, too, and homemade yogurt.
Halekulani now features Table One by Vikram Garg, a personal dining experience. How did that idea come about? Orchids is just a beautiful restaurant. When I used to come here as a guest chef, I would walk past the atrium space in the dining room (where Table One is now) and think, "What do they use that space for, dancing?" It's a wonderful space to dine.
Most Recent Comment(s):