Wade Ueoka

By
.(JavaScript must be enabled to view this email address)
Friday - April 27, 2007
Share
|

Del.icio.us
|

Podcast
|
WineAndDineHawaii.com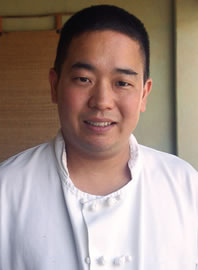 Wade Ueoka
Title: Chef de Cuisine, Alan Wong's Restaurant
Where did you go to school?
Kapiolani Community College
What started your interest in the culinary world?
Out of high school I worked at Zippy's. It was a lot of fun, but one day I walked into Alan Wong's Restaurant and asked for a job. I soon found out that there was so much to learn about the restaurant industry.
What was it like walking into Alan Wong's kitchen from Zippy's? Did you find more similarities than differences?
Coming to Alan Wong's, I really didn't know what I was getting into. At Zippy's it was all about high volume and quick service, which really helped me because of the quick pace and learning to work organized. At Alan Wong's it's about learning how to cook, foraging for new ingredients, creating flavor profiles beyond recipes, and all the while making sure everything has balance and tastes good.
Who were your earliest influences in the kitchen?
When I first started, Chef Alan would always be in the kitchen, along with Lance Kosaka, Barbara Stange, Karen Altherr and Steven Ariel. They all helped guide me in my early years.
You've just come back from working in Japan. How was that?
I really enjoy going to Japan because the ingredients are incredible. Everything is packed so perfectly. You can get anything you want there.
Where is Japanese cooking right now?
The Japanese have a strong French influence, but it all starts with the products they use. They believe in highlighting the flavors of the ingredient without losing its integrity.
What's your favorite kind of food?
I really enjoy going to ethnic places for dinner: Japanese, Chinese, Korean. After work at least once a week, my girlfriend Michelle and I get takeout from Sorabol. I always get the kalbi and meat jun combination dinner with a side of nori.
What would you make if we came to your house for dinner?
I probably would make something simple: a pot of Portuguese bean soup with kim chee inside, a whole roast chicken, some roasted vegetables and potatoes ... that kind of thing.
What's always in your fridge?
I always have a little package of li hing mui. It's always been one of my favorite things.
If you could cook dinner for anybody, who would it be?
I really would like to one day cook for my whole family. I don't get very many opportunities nowadays to spend time with them. One day I would like to get all of them together and cook a nice, sit-down dinner.
Most Recent Comment(s):