Wally Amos

By
.(JavaScript must be enabled to view this email address)
Friday - September 19, 2008
Share
|

Del.icio.us
|

Podcast
|
WineAndDineHawaii.com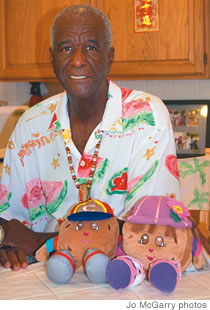 Wally Amos is the famous founder of a cookie company, and owns a cookie store in Kailua with a second store slated to open later this month in Waikiki. In 2005 he and his wife, artist Christine Harris Amos, founded the Chip And Cookie Read Aloud Foundation. A well-known public and inspirational speaker, he is the author of more than 10 books and an enthusiastic advocate for adult literacy. His Read It Loud! program is a partnership with the Library of Congress.
Title: Founder, Chip and Cookie Company, among other things!
What started your interest in making chocolate chip cookies?
I was working at the William Morris Agency in the 1970s as an agent, and an actress brought these great cookies to a meeting. It immediately transported me back to my childhood and to eating cookies with my aunt.
How did Chip and Cookie start?
My wife, Christine, created the Chip and Cookie dolls around the time of our wedding (our invitation stated "once there was a handsome chip who met a cute little cookie"). Then she made the dolls - the original ones were burned in a fire - and they just sort of became part of our life.
How many types of Chip and Cookie cookies are there?
We have five flavors - there's the original chocolate chip and then chocolate chip with pecans, with macadamia nuts, with oatmeal raisin, with butterscotch. They're like a family. The pecan chip is the patriarch, the butterscotch the mother, the macadamia nut an uncle, the oatmeal raisin the tutu and the little chocolate chip the keiki. They are an ohana of cookies.
Can you share some tips about baking cookies with us?
Well, it helps to have a kitchen filled with love, and our frozen cookie dough. And it is appropriate to play the kazoo as you bring them from the oven. Or to sing as you put them in, if you prefer.
I hear that Saturdays are a great day for children to visit Chip and Cookie in Kailua.
Any day is a good day for cookies, but on Saturdays at 2 p.m., when I'm in town, we welcome all children to our store for reading and to share cookies.
Where do you and Christine like to eat when you're not eating cookies?
We enjoy many restaurants. Champa Thai is a favorite, Buzz's in Lanikai, Aloha Salads in Kailua, California Pizza Kitchen, and I particularly like Hojin (right next to our store in Kailua), where they have great noodles and sushi rolls.
Most Recent Comment(s):