Wanida Tienchai

By
.(JavaScript must be enabled to view this email address)
Friday - November 04, 2009
Share
|

Del.icio.us
|

Podcast
|
WineAndDineHawaii.com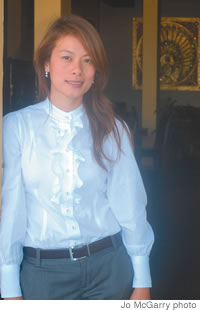 Job Title: Owner, Blue Ocean Thai Restaurant
Where were you born and raised? Thailand. In the country, about three hours' drive from Bangkok.
What started your interest in cooking? Growing up in the country, we grew our own food and always ate from the land. We cooked all day. My father was Chinese, so we started our day with less spicy food and the dishes got hotter in the evening.
There are lots of Thai restaurants in Honolulu.What makes Blue Ocean Thai different? Well, I think that our dishes are much more like the kind of food you'd find in Thailand, and not so changed for American taste. Our Pad Thai, for example, tastes different than most here.
And you've just started to offer an all-you-can-eat buffet, right? Yes. On Sundays we have a dinner buffet that's proving very popular. It's just $14.95, and we have about 18 different dishes. It's a great way to let people see the kind of food we do - and it's great value.
Do you like to cook at home? Absolutely.
What are some of your favorite dishes? Chicken with Thai basil is a favorite.
Where are some of your favorite places to eat? The Willow Tree in Aikahi.
Favorite dish there? Kimchee stew.
What's always in your fridge? Fresh vegetables and red wine.
Who would you most like to see come into the restaurant for dinner? Anderson Cooper. I'm his biggest fan.
Most Recent Comment(s):