Warren Shon

By
.(JavaScript must be enabled to view this email address)
Friday - April 07, 2006
Share
|

Del.icio.us
|

Podcast
|
WineAndDineHawaii.com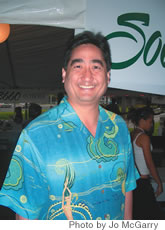 Warren Shon
Warren Shon is the executive vice president of Southern Wines and Spirits of Hawaii. In the food and beverage industry, Warren is recognized as having an exceptional palate for wine, and he has traveled to some of the greatest dining spots in the world.
Where did you go to school?
Roosevelt High School and University of Hawaii at Manoa.
First industry job?
I'll be giving away my age, but it was at Bobby McGee's in Waikiki.
How did your interest in wine begin?
Shortly after Bobby McGee's, I went to work for Andy Anderson's John Dominis Restaurant. The clientele at the time was quite affluent, and I realized that I could make twice the money (since we worked on gratuities) if I could learn how to sell more wine.
Most influential people in your life so far?
I'd say there were three. My mother and father, who encouraged me to work hard, care for others and to live life with passion. And Jim Allen, a dear friend and colleague who believed enough in me to hire me some 19 years ago.
Favorite restaurants in Hawaii?
As odd as it sounds, I really don't have one favorite restaurant. I enjoy exploring what's out there, and am a fan of many.
Favorite dishes at any?
There are too many to list!
Originality, the use of the freshest ingredients, creativity and passion are the keys.
Cork vs. screw tops.
The jury is still out on the long-term effects of a screw-top closure (because we have not had ample time to monitor how a wine will improve, stay the same or deteriorate over an extended amount of time). I have enjoyed many wines that have the closure, and they are every bit as satisfying as those with corks.
Memorable wine moments.
The very first sip of wine, and the feeling that came with it. And on a more serious note, an unbelievable wine and food degustation at one of the world's greatest restaurants, El Bulli.
Favorite place to have dinner in Vegas?
There are so many to choose from that it is impossible to single one out. On a recent trip to the new Wynn Hotel, I had the chance to dine in three of its restaurants. All of them were terrific.
On a lighter note, you have to try the pastrami sandwich at the Four Queens!
Has the wine scene changed in Hawaii in recent years?
Absolutely! So many restaurateurs, retailers and consumers have been "bitten by the bug," and this is quite exciting.
With whom would you most like to have dinner?
Once a month with my mother.
What's always in your fridge?
Wine, beer and kim chee.
What are you cooking at home if we're coming for dinner?
Korean braised oxtails.
Last drink on earth?
The strongest thing possible!
Most Recent Comment(s):