Warren Uchida

By
.(JavaScript must be enabled to view this email address)
Friday - May 21, 2005
Share
|

Del.icio.us
|

Podcast
|
WineAndDineHawaii.com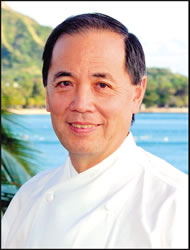 Title: Executive sous chef at The Royal Hawaiian Hotel's signature restaurant, The Surf Room.
Age?
54 years.
First professional cooking job?
Working at the Yacht Harbor Restaurant. Who has influenced you most in your cooking career? Before I joined the Royal Hawaiian, I worked at Hoku's at the Kahala Hilton. I was fortunate to have met many influential chefs, such as Oliver Altherr, who influenced my culinary career.
Favorite dish at your own restaurant?
The roasted Chilean sea bass with Australian blue shrimp, wasabi mashed potatoes, coconut ginger cream and kaffir lime leaf oil, baby bok choi and a Thai curry sauce.
Favorite dish at another Hawaii restaurant?
I love Oji-san. I enjoy their saba.
What's always in your fridge?
I have a lot of local sides like taegu, takuan and kim chee. I also always have fresh vegetables and fruits on hand.
Favorite late night snack?
Cheetos and popcorn.
Who would you most like to cook dinner for?
I love cooking for my mom.
What ingredient can you not live without?
Garlic and shoyu.
How would you describe your cooking?
Pacific Rim. I love to incorporate a lot of fresh, local ingredients. I also believe that spices are the key to cooking. If a dish isn't seasoned just right, it won't live up to its full potential.
Describe your restaurant.
The Surf Room is our signature restaurant here at the Royal Hawaiian and has a very romantic feel to it. It is such an amazing culinary experience — excellent food, service and ambiance. It is a first-class establishment right on Waikiki Beach.
How do you relax when you're not in the kitchen?
I used to play a lot of jazz, but lately I settle for listening to it. I also try to sleep as much as I can on my days off.
Most Recent Comment(s):
Commenting is not available in this weblog entry.