Wayne Larrow

By
.(JavaScript must be enabled to view this email address)
Friday - January 06, 2006
Share
|

Del.icio.us
|

Podcast
|
WineAndDineHawaii.com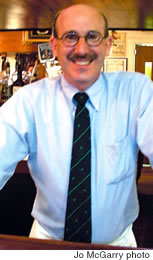 Wayne Larrow
Wayne Larrow is the consummate bartender at Murphy's Bar and Grill in downtown Honolulu.
Here he talks about the highs and lows of life behind the bar, how he deals with the public and why he'd like John Lennon to stop by for a drink.
Age: 52
First professional bar/restaurant job?
I had plenty of restaurant jobs in my youth. My first professional bartending job was the Bridge Café in New York in 1978. For eight years I worked and played with lower Manhattan's finest mixologists.
Who has influenced you most in your career thus far?
Bartending is an apprenticed job. The business is your mentor. Fourteen years with Jonathon as my partner on the slats qualifies him as next of kin.
Favorite dish at Murphy's?
The kitchen is fantastic here. The weekly specials are all off the hook. Bartenders and horses have to eat standing up, so the Irish Burger is the way to go. It has Cashel Blue Cheese from Ireland on it.
Favorite dish at another Hawaii restaurant?
My wife is the original Iron Chef - and I like the chocolate soufflé at Roy's.
Do you have a favorite beer?
The one in my hand. All kidding aside, you should taste the winter beers. They are the most robust of the seasonal brews and they will put a twinkle in your eye.
How about a favorite late-night tipple?
An XO Cognac straight up with an orange juice back. That is the way to go in Chinatown, NYC.
Worst part of the job?
When I see "people person" on applications - that always goes in the circular file. We wear so many different hats in our business. The motto of our profession should be that patience is a virtue.
Any pet peeves about dealing with the general public?
The public treats you as well as you treat them. If you 'over-serve" them and antagonize them, then you will get what you deserve.
Ask somebody in retail about the last time they got tipped.
What's the best part of the job?
Social mobility. I get to hang out with everybody. Bartenders serve their flock much like the clergy do.
Who'd you most like to have at the bar for a drink?
John Lennon. The voice of our generation. He would have had so much more to say.
How would you describe Murphy's to someone who's never been?
Everybody has been to church, but Murphy's is like walking into a cathedral.
What's always in your fridge?
Peanut butter.
Favorite late-night snack?
Brie and smoked oysters.
How do you relax?
Every bartender likes the other side of the bar. I am an avid reader, too. I usually go to the gym before work, but I am losing the battle with gravity. And nowadays, with my sons away from home and my daughter in high school, I am getting to spend more time with my lovely wife, Wendy.
Most Recent Comment(s):