Wensheng Huang

By
.(JavaScript must be enabled to view this email address)
Friday - September 30, 2005
Share
|

Del.icio.us
|

Podcast
|
WineAndDineHawaii.com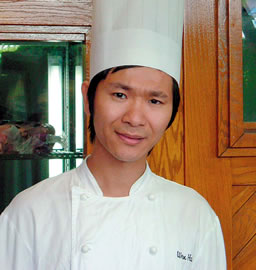 Wensheng Huang
Wensheng Huang is a sous chef trainee at Royal Steak and Seafood in Waikiki. He is hearing-impaired and works in silence in the busy kitchen.
He communicates with staff using a mixture of sign language and body language.
Age: 28.
First professional cooking job?
My first culinary position was at Lobster and Crab House in Waikiki's Royal Hawaiian Shopping Center. In the beginning I did a lot of prying open oyster and clam shells.
Who has most influenced your cooking so far?
My father. I was fascinated with his Cantonese cooking style. He always prepared delicious roast duck, roast pork and seafood - and I especially loved his crab in black bean sauce with garlic, ginger, chili pepper and green onion.
Favorite dish at Royal Steak and Seafood?
Our seafood medley with opakapaka, salmon and Kahuku shrimp with infused tamarind saffron jus. It's served with aromatic vegetables.
Favorite dish at another Hawaii restaurant?
My favorite dish is king salmon teriyaki skewers with flash-seared yakisoba at Ryan's at Ward Centre. The skewered king salmon is fire-grilled and glazed with Ryan's own teriyaki sauce and served on top of flash-seared yakisoba.
What's always in your fridge?
Fresh meat, seafood and vegetables.
Favorite late night snack?
Mud pie with vanilla ice cream on the side.
Who would you most like to cook for?
On a daily basis, my family.
And as for famous people, I think it would be fun to cook for a president or perhaps royalty or a movie star.
What ingredient can you not live without?
The big four! Garlic, ginger, scallion and fresh thyme.
How would you describe your cooking?
I like to create a mix of Eurasian dishes with a combination of traditional and contemporary Asian and European cooking.
How do you relax when you're not in the kitchen?
I like to jog to keep healthy.
Most Recent Comment(s):