Wes Zane

By
.(JavaScript must be enabled to view this email address)
Friday - July 27, 2011
Share
|

Del.icio.us
|

Podcast
|
WineAndDineHawaii.com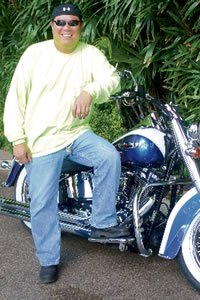 Title: President of Laughing Gravy Restaurants
Where were you born and raised? Honolulu.
What ignited your passion for food and wine? My favorite pastime was eating, and as I got older I enjoyed wining and dining until the wee hours. In seventh grade I said I wanted to be a chef. My career took me more toward front of house, for which I'm grateful.
So were you cooking at an early age? Yes. I always watched my mom cook, and I remember Parade magazine always had recipes, and for some reason I would read them and cut them out. My friends and I would cut out of school and they'd come over and I'd cook.
Do you still cook at home? Sure. Easiest, of course, is grilling, but even then I give it a twist and serve different salads and pasta with whatever comes off the grill.
What's always in your fridge? Breakfast foods: bacon, eggs, that sort of thing. It's the one meal that I know I will be eating at home every day.
The restaurant industry is notoriously demanding. How do you relax? I love cruising on my Harley with friends. We normally put on 300 miles a weekend and enjoy breakfast at Shark's Cove Grill in Pupukea or Café Haleiwa. It's great therapy!
Who would you most like to have dinner with at Formaggio? For me it's all about the company and being with friends. So, whenever I get the chance, I choose to eat with my family and friends. I don't need to dine with anyone famous.
You're known for out-of-the-box thinking in restaurants Burgers on the Edge, Good to Grill, Formaggio. Do you have crazy restaurant ideas all the time? Yes, I do. I think about new ideas all the time. But I try to suppress them. These are, after all, challenging times (laughs).
Any advice for people thinking of starting in the business? Ask yourself if you're really cut out for this. Your No. 1 job is to make people happy. If you understand that, then you'll do well.
Most Recent Comment(s):