Wilhelm Pirngruber

By
.(JavaScript must be enabled to view this email address)
Friday - June 22, 2007
Share
|

Del.icio.us
|

Podcast
|
WineAndDineHawaii.com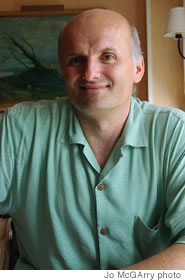 Wilhelm Pirngruber
Wilhelm Pirngruber joined the Hilton Waikoloa Village in 1993 as executive chef, and in 2005 was promoted to director of food and beverage. He's won gold and bronze medals at the International Culinary Olympics. Known for his easy-going personality and good sense of humor, he's responsible for the dozens of food and beverage outlets at Waikoloa, including the award-winning Donatoni's, Kirin and Imari. Ice sculpting is a passion, and when he has time, he still manages to create incredible sculptures for food events.
Where were you born and raised?
In a small town north of Linz in Austria. It was a very rural environment. We collected berries in the summer, went mushroom hunting in season, grew our own vegetables and had fruit trees in our yard.
So food was always a big part of your life?
Yes, of course. The daily ritual of preparing food, and growing food was something that inspired me from an early age.
How did you start in the industry?
I always thought I wanted to work with food. I started as a cook in Austria - and learned my trade there, and then began to travel. I worked in Germany in several regions, including a wine-growing area where we served our own wine in the restaurant, and then I went to Switzerland. One summer I took a vacation trip to Central America and decided not to go back!
When did you come to Hawaii?
In 1993. It was a very interesting time. The food industry became very competitive right around then.
Who influenced you most growing up?
My godmother. She was like a second mother to me and always incredibly supportive. She was there 100 percent whenever I need anything.
When you come to Honolulu, where do you like to eat?
Alan Wong's and Chef Mavro. Their food is very good. And I also like d.k Kodama's restaurants.
And on the Big Island?
Kawaihae Harbor Grill & Seafood Bar. It's nothing fancy, but for a Sunday early evening dinner they have great escargot, great oysters. It's a casual place with good food.
What's always in your fridge?
Beer! (laughs). I like whatever is on sale! I really like Newcastle Brown, a very smooth, great-tasting English beer.
How do you relax?
Well I like to play a little golf and I used to go scuba diving, but haven't done that in a while. And there's the carving ...
Most Recent Comment(s):