William J. Nickerson

By
.(JavaScript must be enabled to view this email address)
Friday - January 20, 2010
Share
|

Del.icio.us
|

Podcast
|
WineAndDineHawaii.com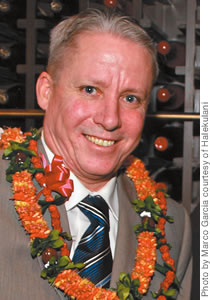 Age: 46
Job Title: General Manager Wolfgang Steakhouse
Where were you born and raised? In Washington, D.C. I came to Hawaii when I was 5 and stayed till I was 13, and then I returned when I was 27.
What made you choose a career in the food and beverage world? The love of celebration.
What was your first job in the industry? I worked as a server for the Christian Brothers on weekends at St. John's High School in D.C., and I was also a dishwasher at the Bread and Chocolate French Bistro.
What is it about the profession that appeals to you? People, especially here in Waikiki, where you meet people from all over the world. And the food and beverage industry also is one of the few industries based on face-to-face communication.
What do you recommend for first-time visitors to Wolfgang's? Our Sizzling Canadian Bacon. It's unique. And our Wolfgang Salad. I'd also recommend the Porterhouse for two, German potatoes and creamed spinach. But, of course, everything is good.
We have more than our fair share of steakhouses in Honolulu nowadays. What do you think makes Wolfgang's unique? When you operate a steak-house, people come usually for just one thing: steak. I believe we have the best steak in Hawaii. Our prime meat is flown in weekly. We have an in-house dry-aging room. Add ambiance, service and location, and I believe you have the winning ticket.
What's your idea of a perfect pairing? Champagne and oysters. Why reinvent the wheel?
Favorite place to eat when you're not working? My kitchen. My wife is a fantastic Mexican chef, and I learned a few tricks of the trade over the years.
Favorite thing to eat at home? My wife's tamales.
What's always in your fridge? A six-pack of Sierra Nevada, Tillamook extra-sharp Cheddar, habaneros and Triscuits.
Favorite saying? "Pay it Forward" because of its positive message.
How do you relax? I am happiest when I am with my immediate family.
Who'd you most like to see come into Wolfgang's for dinner? Lance Armstrong.
Who's been most influential in your life? My dad. He's always been there for me.
Most Recent Comment(s):