Yves Garnier

By
.(JavaScript must be enabled to view this email address)
Friday - July 07, 2006
Share
|

Del.icio.us
|

Podcast
|
WineAndDineHawaii.com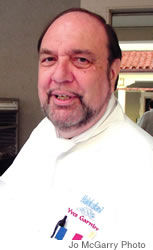 Yves Garnier
Yves Garnier is the executive chef at the Halekulani Hotel. There, the signature fine dining restaurant La Mer, with its extensive menu and award-winning wine list, has become his ode to French cooking. His pure, classic style and an unwavering commitment to his French background have made La Mer Honolulu's only AAA 5 Diamond Award restaurant.
Garnier has cooked for royalty and the rich and famous, and received a Michelin star when he worked at Hotel Mirabeau in Monte Carlo.
Where did you begin to cook?
In Paris at a hotel near the Place du Concorde, in 1959. Then after a while of working in restaurants in Paris, I went to Monte Carlo and stayed there for 22 years.
How did you end up in Hawaii, and at the Halekulani?
It was just a coincidence really. A head hunter called me and said, are you interested in Hawaii, and I said Hawaii? Why not? Hawaii sounds good to me.
I arrived at the Halekulani and immediately met the food and beverage director, who was French and a man I had worked with 15 years previously in Monte Carlo. It's a very small world, no?
So you obviously liked Hawaii enough to stay.
Yes, of course, I loved it. For me, La Mer has everything you could want in a restaurant. It's a top restaurant and I am able to do completely French cooking. It's wonderful.
There's a fairly extensive menu at La Mer. How often do you add new items?
Yes, you're right, the a la carte menu is very extensive and has many items, so we only change it about twice a year. But we have a degustation menu that has up to nine courses and we change it every three months.
What inspires you?
Oh, many things. Right now on the menu we have this wonderful Kurobuta pork that I tasted when we traveled to Japan. It's very sweet and tender - so that inspired me. Ingredients can be inspiring.
Do you do Pacific Rim or Hawaii Regional Cuisine dishes at La Mer?
No, not Pacific Rim. La Mer has basic classic French food. With classic French, everything goes well with everything, from the presentation to the taste to the texture of the food. There's not too much in the way of spice, no heavy sauces, just classic food. At Orchids, however, we're very different. Orchid's has its own personality - and that reflects the influence of Pacific Rim cuisine, and of course the wonderful ingredients of Hawaii.
Do you cook at home?
Yes, I like food! I like to cook. I'll make simple dishes like ratatouille, scallops, fish, and I like to sometimes eat Japanese food.
Where do you go to eat out?
I'm not telling. It's my secret. (smiles). To me, there are just two kinds of food - good food and bad food. If it's good, I'm going to like it whatever type of food it is.
What do you do to relax?
Eat well! And I have movies sent from France occasionally, so I'll watch a good movie and enjoy a good meal.
Most Recent Comment(s):