A Barnes & Noble Reading Nook

By
.(JavaScript must be enabled to view this email address)
December 23, 2009
|
Share

Del.icio.us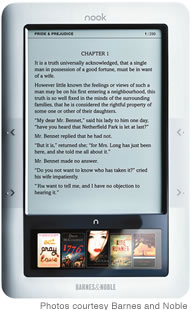 Back in October, Barnes & Noble announced the Nook, its wireless eBook reader. Clearly this is meant to compete with Amazon's Kindle and Sony's E-Reader. Unless you were able to pre-order a Nook back in October, this product is a little too late to make Christmas this year since it actually became "available" last week. But in reality, if you order one now, you'll most likely see it some time in January or maybe even later.
"We asked our customers what they wanted in an eBook reader, and specifically designed Nook to be the most full-featured, fun, stylish and easy-to-use eBook reader on the market," says William J. Lynch, president of BarnesandNoble.com. "With our nationwide footprint, Barnes & Noble customers can see, touch and hold Nook. Our 40,000 booksellers are ready to help customers discover how easy it is to download and read eBooks on Nook, and what a pleasure it is to have access to their favorite eBooks, magazines and newspapers anytime and anywhere."
At first glance, the Nook looks strikingly close to its Kindle rival. The noticeable difference is the color touchscreen at the bottom. Yes, it's only at the bottom. The whole nook display is not a color screen as the ads lead you to believe, but only a color strip at the bottom that is exclusively for navigation and controls. The touchscreen is not very responsive and seems a little awkward against the big gray screen above. When you click on something, there is no indication that your Nook "heard" you, as there is no hourglass or progress bar.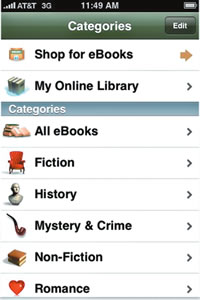 A great feature concept the Nook has is the ability to loan your eBooks to other Nook-owning friends for 14 days. The drawback is that you can only loan it out once, and when it is loaned out, it disappears from your library and you can't access it. The other thing is that you can't lend a book out unless its publisher approves it. You'll see a "LendMe" icon next to it if it is lendable.
As with the Kindle, the Nook has built-in free wireless 3G service to access the Barnes and Noble online bookstore when you're on the road. The Nook also added on Wi-Fi, but you have to configure your hotspot manually since you don't see any notifications when you enter into one. I wasn't able to actually walk into a Barnes & Noble yet, but supposedly your Nook will auto-connect to AT&T Wi-Fi hotspots in all Barnes & Noble stores. In addition, the Nook is boasted as the first eBook reader that can run the Android operating system. I don't see it doing much now with Android, but it opens the door for many future possibilities.
Overall, the Nook is cool, but I'm not so sure it's worth it at this early stage for the price in comparison to its competitor (same $259 price tag). Perhaps it could be later when it's more refined. I think it may have been rushed out onto the market too quickly. Visit Barnes & Noble's Web site for more information or if you do decide to purchase it (barnesandnoble.com).

Click Chick's iPhone App of the Week: B&N eReader
You don't necessarily need a Nook to enjoy Barnes & Noble's eBooks. Similar to Amazon's Kindle app, the B&N eReader app for your iPhone/iPod touch allows you to read your eBooks from your device. It gives you the basic features of the Nook, including the eReader, a free copy of Merriam-Webster's Pocket Dictionary, adjustable text size, multiple font choices, choice of tap or swipe to turn the pages, background and text color options for easy reading, and more.
Additionally, you'll never lose your place with the "Reading Now" virtual bookmark, which remembers where you were reading on your Nook or iPhone. Download the B&N eReader for free at the iTunes App Store.
Most Recent Comment(s):