A Compatible Plus Up On Ink

By
.(JavaScript must be enabled to view this email address)
July 30, 2005
|
Share

Del.icio.us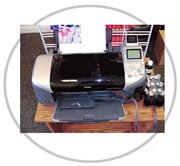 I use an inkjet printer at home, and often print anything and everything from color photos to CDs to just regular black and white documents. I go through a lot of ink cartridges of all colors! All this time I've been spending a fair amount of money on my printer's manufacturer ink cartridges, but now there's an alternative that gives you the same quality with a lower price.
Mr. Ink Plus sells inkjet cartridges, laser toner, copier toner, thermal fax ribbons and even dot matrix ribbons at up to 80 percent less than brand name cartridges. You must wonder how that is possible, I know I did. Terrence Iwamoto, coowner of Mr. Ink Plus, carries "compatible cartridges." These are specially manufactured generic cartridges that are designed to meet or exceed the standards of brand name original equipment manufacturer (OEM) products. (Don't get these mixed up with remanufactured cartridges, which are recycled, reprocessed, disassembled and refilled with ink or toner.)
The compatible cartridges are brand new, and I've seen for myself that the quality is firstrate. Mr. Ink Plus'selection offers an excellent opportunity for you as a consumer, and the business user/buyer to save a good chunk of change on something you need to buy anyway. The use of generic replacement cartridges will not void the warranty on your printer.
The prices on the compatible cartridges vary, and are dependent on your equipment type. I can tell you that the black cartridge for my Epson R300 printer is $10.95 from Mr. Ink Plus, and from Epson directly it would cost $17.09. Another printer I use at work is an HP LaserJet 4500. It's $69.95 from Mr. Ink Plus and $113 from HP! You do the math.
"I'm here to help people," Iwamoto says. "I'm not after people's money. I just want to help them save money," he humbly adds, right after a customer purchased some cartridges and commented how inexpensive everything was.
In addition to the affordable cartridges, Mr. Ink Plus carries a variety of continuous ink systems for inkjet printers. This is for the high-volume user, such as a photographer who would print hundreds of photographs, or if you just have the urge to print a lot of stuff.
Iwamoto also offers fundraising opportunities with Mr. Ink Plus. Geared toward church groups, schools or other nonprofit organizations, $2 will be paid for each empty inkjet or toner cartridge. It will then be recycled, and you help can do your part to help save the environment.
Get inked up at Mr. Ink Plus, located at 670 Auahi St., #A12. You can also visit the website at www.mrinkplus.com or call 526-2465 for a complete price list or more information.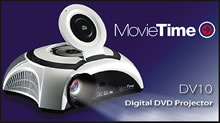 The MovieTime DV10 Digital Projector features a
built-in DVD player and high performance
speakers in a stylish, compact design
Instant Big Screen Home Entertainment
I enjoy watching DVD movies on the big screen television that I have at home, and in general, I'm satisfied with the way my home entertainment system is set up. The problem is it's stuck in my living room. Wouldn't it be great if I could move the entire system to another room or even take it to a friend's house? Well, now it's possible.
The MovieTime DV10 Digital Projector
, made by Optoma Technology, is a pure digital DVD and DLP (digital light processing) projector all-in-one. It features an ultra bright, cinemaquality projection, a built-in DVD player and high-performance speakers in a stylish, compact design. This projector has the advantage of optimized DVD viewing with guaranteed color accuracy and distortion-free pictures, since it reads the presets from the DVD itself and goes directly to the projected image. You also don't have to worry about getting confused on which connectors to use, cable matching or making sure you have the right cable length(s). You basically plug it in, pop a DVD in, and you're good to go.
MovieTime also comes with two five-watt speakers and a short throw lens that lets you turn any room in the house into a personal screening room. It is High Definition (HDTV) compatible for widescreen cinema quality. If you don't want to use its integrated speakers, it can be connected externally to your optical audio output (such as a Dolby or DTS home theater surround sound) to give you a full surround sound experience.
The whole device weighs 7.8 pounds and offers a resolution of 854x480 pixels. If you have a wall big enough, you can make the screen size anywhere from 3 feet to 27.9 feet.
You can transform your living room into a professional grade cinema with the MovieTime DV10
for about $1,500 from www.tigerdirect.com and other various online retailers. It may sound a little pricey, but this is actually quite reasonable in comparison to a full-blown home theater. Popcorn not included.
.(JavaScript must be enabled to view this email address)
Most Recent Comment(s):
Commenting is not available in this weblog entry.