A Free Language-learning Tool

By
.(JavaScript must be enabled to view this email address)
August 12, 2009
|
Share

Del.icio.us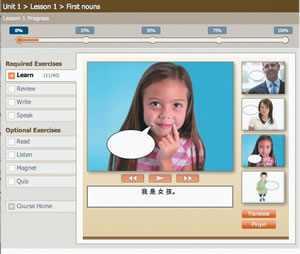 A free solution to language learning, Livemocha is a learning tool that combines fun self-study lessons, motivational tools and a community to help you learn the language of your choice. Unlike potentially boring CDs and books, Livemocha brings you useful everyday language from native speakers. It reached a whopping 3 million users in June, yet it's been out there for about two years.
I started using it about a month ago and, as you probably know, learning another language can be difficult. I find that dealing with a native speaker is the best way to pick up any language. Livemocha allows you to do exactly that by putting you in touch with people who already speak the language you're trying to learn. So far, Livemocha has a community from more than 220 countries and is the largest language-learning community. The site continues to outpace the growth of traditional classroom and CD-based language courses since it appeals to every age and nationality.
"The contributions of our enthusiastic community allow us to make language learning more accessible worldwide, thereby expanding the size of our community," said Shirish Nadkarni, founder and CEO of Livemocha. "The viral growth we've experienced is a testament to the effectiveness of our unique social learning experience. Livemocha members learn new languages more effectively by accessing lessons online and tapping into a large network of native speakers for real-time practice and helpful feedback."
Livemocha's sign-up is quick and easy: You enter in your name, e-mail, password, etc., and choose what language(s) you want to learn. You then choose a course, and there are four steps you need to pass in each lesson: Learn, Review, Write and Speak. There are optional exercises, too: Read, Listen, Magnet and Quiz. Overall, the lesson plans include more than 160 hours of beginner- and intermediate-level content that teaches you everyday useful conversational language along with a wide range of practical reading, listening, writing and speaking exercises. I find the pictures with each phrase useful and easy to remember, as well as the option to choose to see either the characters or romanization (when learning Chinese or Japanese).
In addition, Livemocha encourages members with Mochapoints. You can earn points based on completing lessons, writing submissions or speaking submissions. Once you earn a certain amount of Mochapoints you receive medals. The points are just a way to motivate you to do more and more. Try Livemocha at http://www.livemocha.com.
---
Click Chick's iPhone App of the Week: Rowmote
Rowmote lets you control any Mac or Apple TV from the convenience of your iPhone or iPod touch via your Wi-Fi network. It works just as those little Apple Remotes do, but it does so much more without having to worry about a line-of-sight infrared connection with your computer.
Before you can use Rowmote you'll need to download and install the Rowmote Helper on your Mac from rowmote.com. After that, you'll be able to control a variety of programs on your computer including Front Row, Boxee, DVD Player, Hulu Desktop, iPhoto, iTunes, Quicktime, Safari or xbmc (Xbox Media Center), to highlight afew.
I have a Mac mini hooked up to my TV for the sole purpose of being a media server, and I've been using Rowmote to primarily control Boxee, Hulu Desktop and iPhoto. The combination of using our HDTV to watch streaming media along with Rowmote makes my home media experience very efficient and enjoyable. Download Rowmote for 99 cents at the iTunes App Store.
Most Recent Comment(s):