A Home Security Cam For Windows

By
.(JavaScript must be enabled to view this email address)
July 25, 2007
|
Share

Del.icio.us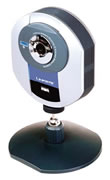 Because of the significant increase of home break-ins in my neighborhood in particular, and around the Island in general, I was prompted to seek out a security web camera that's user-friendly to my readers. In a column about a year and a half ago, I wrote about Linksys' WVC54G Wireless G Internet Video Camera. Today I have Linksys' next generation WVC54GC to play with.
This camera has been out on the market for a while, but I wanted to test it because it seemed to be fairly decent and easy-to-use. You wouldn't want something too complicated to monitor your home with.
I'll tell you up front that as long as you are using it with Windows XP, you will have virtually no problems setting it up.
With any other operating system, you'll be kicking yourself silly.
I will eventually put this camera in a place that will monitor an entry point, but for testing purposes it's currently pointed at my parrot. My next placement will be outside looking at our sidewalk — one of my pet peeves is finding dog poop on my grass that people don't bother to pickup. I can easily use this camera to catch 'em in the act.
But before anything can be done, you need to install the software utility on your computer to setup and configure the camera. Once you have the software installed and the camera configured and physically positioned to your likings, you're ready to go.
Capturing the precious moments without sitting in front of your screen all day is simple after you configure the WVC54GC to e-mail you when it detects motion. You'll receive a short video clip of what it recorded (maximum five seconds), so it's perfect if you're at work most of the day to see what's going on. However on the downside, it does not record audio, and if there is heavy movement in the camera's field of view, you'll receive an email too. In my case, since I have the camera pointed at my bird, I receive an email every time he moves.
Other features include MPEG-4 support (320x240 video stream), its own web server (so it can connect directly to a network), time stamp and text overlay, WEP encryption and WPApre-shared key, and Linksys SoloLink DDNS service (dynamic IP IP connection - free for the first 90 days). Additionally, it supports up to four simultaneous remote users and is viewable up to Wireless G speeds (sorry, no Wireless N yet).
Again if you set your camera up on Windows XP, you'll be fine, but if you're using Windows Vista or Mac OS X, you'll run into big problems. For you Mac folks, you can use Boot Camp or Parallels with XP to get around the problem. Otherwise, check out this website and follow the instructions: http://www. jasonkohles.com/writings/wvc54 gc-osx-linux. Officially, the WVC54GC will work with Windows 98SE/ME/2000/XP along with Active-X 8.0, Windows Media Player 7 and Internet 5.5.
The going rate for the Linksys WVC54GC is about $100, and you can find it at your nearest CompUSA(www.compusa.com) or Best Buy (www.bestbuy.com). For more information on the camera itself check out www.linksys.com. For a more business-oriented solution, try Linksys'Wireless PTZ Internet Camera with Audio (WVC200).
Most Recent Comment(s):