A Keyboard In Her Purse

By
.(JavaScript must be enabled to view this email address)
June 16, 2006
|
Share

Del.icio.us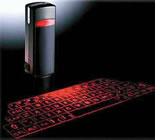 iTECH Bluetooth Laser Virtual
Keyboard
Women seem to carry their entire house in their purse. Most gals can usually whip out a band-aid, assorted make-up products, tissues, and of course, a wallet and cell phone, but how about a keyboard? Perhaps a techie like me could. I admit, in addition to the aforementioned items, I usually have my PlayStation Portable (PSP) along with some spare games, digital camera, and extra memory sticks. No my purse isn't that big, and I don't actually carry around a humungous keyboard with me. I'm talking about a virtual keyboard that's about the size of a pack of gum - no joke!
The iTECH Bluetooth Laser Virtual Keyboard has a red plastic window where a projection module uses a red diode laser to emit a keyboard template. The holographic optical element used to display the virtual keyboard then produces a full-size keyboard image onto your desk, or any other flat surface (with no protrusions over 1mm), and allows you to type wherever you are. It will make simulated key click sounds as your fingers press the virtual keys and break the laser, so it will sound like you're typing.
With the Bluetooth Laser Virtual Keyboard's 63 keys and full-size QWERTY layout, you can type about the same speed as if you were using a regular keyboard. It will also connect to your PDA, Smartphone or computer via Bluetooth or serial cable. Using the included software, you can monitor the device's battery level, adjust the properties (i.e. adjust the touch as you type), choose your connection (Bluetooth or serial) or enable shortcuts (13 available). The easiest thing to do is keep the settings at the default level since it seems to work well with it.
The battery is rechargeable and will last you about two hours of continuous typing on a full charge. It is compatible with PalmOS 5, PocketPC 2003, Windows Smartphone, Symbian OS and Windows 2000/XP. Additionally, you can use it with your Mac using the built-in Bluetooth support with OSX. Unfortunately there is no OSX driver software included with the keyboard, which means there is no way to set the keyboard preferences such as brightness, key-repeat and sensitivity.
You can find the Bluetooth Laser Virtual Keyboard for $179.99 at www.thinkgeek.com. A bit pricey, but think of all the fun you could have with a virtual keyboard that can go anywhere you do.


I remember it was just a few years ago, but seems like a few days ago, that the world made the jump from Microsoft's Windows 2000 to Windows XP. Now the world is about to take another jump from Windows XP to Windows Vista. Are you ready?
If your answer is yes, then you may be the perfect candidate to test out Windows Vista, Microsoft's next generation operating system. Microsoft made a free pre-release edition of Windows Vista Ultimate available to the public for the first time. Before you jump on this, note that this should NOT be used on your main machine at home or work. Since this is only a beta test, it may mess up some of your drivers, viewing of Flash-based websites, possibly your instant messaging and more than you want to think about right now.
However, if you have an extra computer around, you'll have fun with Vista and see how fast it runs. Before you begin, make sure your test subject has a minimum of an 800MHz processor, 512MB of memory, DirectX 9 capable graphics processor and a 40GB hard drive (with 15GB of free space). When you register for Microsoft's Customer Preview Program, you will receive the Beta 2 release along with Windows Vista Release Candidate 1 (RC1).
The Beta 2 is 4.4GB, and is downloadable now, and when RC1 is ready to download later this year, Microsoft will send you a notification e-mail message.
Included as a part of Windows Vista's new features is the integrated desktop search within the familiar, but faster Start menu. This helps you find and launch almost anything very quickly on your PC. Also, the new Document Explorer allows you to easily work with your files, and the Live Icon feature lets you see what it contains without opening it. Windows Aero makes your screen visually appealing with glass-like interface elements. See thumbnail views of your taskbar items when you rest your mouse pointer on them, somewhat similar to what Mac OSX can do now. You can also use Windows Flip and
Windows Flip 3D to literally flip through open windows and also see a live thumbnail of each window, rather than seeing just the boring old generic icon. As for your digital memories, Windows Photo Gallery gives you the ability to easily import photos, color correct your digital pictures and easily save or export them to a CD or DVD for sharing or for your archive.
Take a deep breath . . . if you're adventurous enough to take the Vista leap now, find out more and download it at www.microsoft.com/windowsvista/getready. Note that the software will expire on June 7, 2007. Following that, you'll have to purchase the full, commercially available edition of Windows Vista (and be prepared to do a clean install). Expect the price to be about $450.
Most Recent Comment(s):