A laptop case that zips through security

By
.(JavaScript must be enabled to view this email address)
August 08, 2008
|
Share

Del.icio.us
I just boarded the Bullet Train in Northern Japan about to take a three-hour trip back down to Tokyo, yet I still have the nightmares of arriving here and going through the airport with my laptop. I'm extremely picky with how my computer is handled - if someone I don't know even touches it, I freak out - both for damage concerns and my clean-freak OCD (obsessive compulsive disorder) tendencies.
Going through the airport this last time, I gasped when I watched the security agent pretty much toss the tray my poor MacBook Pro was in onto the conveyor belt, and watched it go over each of those bumps on the conveyor belt. Thank God I didn't have to do all that to take this train too.
Quite timely for all this, in my mind, last week Targus announced a checkpoint-friendly laptop case that can supposedly breeze right through security. I wish I could actually try this bag on the trip back home. This Zip-Thru 15.4-inch Corporate Traveler Laptop Case is the first in Targus' line of checkpoint-friendly laptop cases. It's a derivative of Targus' award-winning Corporate Traveler line that is designed to help business travelers eliminate the hassle of having to remove their laptop from the case when passing through airport security, minimizing the possibility of the computer being lost, stolen or damaged during the screening process.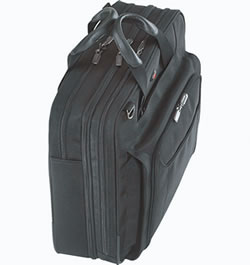 "Our Corporate Traveler line is already a favorite case among business travelers, and adding the new Zip-Thru feature makes it a must-have for anyone who travels with a laptop," says Al Giazzon, vice president of marketing at Targus. "The new Zip-Thru Corporate Traveler laptop case is the lightest in its class, and features our patented SafePort Air Cushion System, which helps to prevent laptop damage if the bag is dropped or bumped. The unique combination of features emphasizes our dedication to delivering unsurpassed solutions, making the traveling experience smoother and more efficient for travelers."
The Zip-Thru is designed to meet guidelines established by the Transportation Security Administration (TSA), which focus on the screeners' ability to see a clear image of your laptop when it's properly secured in the bag. While the bag was in its developmental phases, Targus worked with the TSA to test it through airport screening devices to make sure it met standards.
Designed with the same features as the other lightweight and durable Corporate Traveler laptop bags, the Zip-Thru case splits the case down the middle (patent-pending design), isolating the laptop on one side to allow for clear X-ray scanning. This bag also allows ample space for your files, accessories or any other devices you may need (iPhone, iPod, etc.).
The bag measures 16.93-by-6.5-by-13.98 inches, weighs 3.74 pounds and is made of durable ballistic 1680 denier nylon.
The Targus Zip-Thru Corporate Traveler Laptop Case is backed by a lifetime warranty and will be available in black this October for $99.99 - visit www.targus.com for any updates or to purchase it at that time.
Most Recent Comment(s):