A Little Zap! To Portable Energy

By
.(JavaScript must be enabled to view this email address)
March 28, 2007
|
Share

Del.icio.us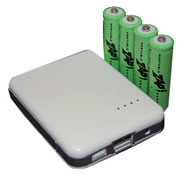 Zap RX4-AA
If you're out and about toting your electronics around frequently, you know how important it is to keep them charged up.
Last summer I wrote about the Turbo Charge device that can power your cell phone on a single AA battery. Thanks to Terrence Iwamoto at Mr. Ink Plus, I found something that can do more than just a cell phone.
The Zap!
RX4-AA Universal Battery Charger gives you excellent backup emergency power for your digital toys, and you're almost never out of juice with it. This little thing holds four AA batteries and will power just about anything. With it, most cell phones, digital cameras, camcorders, mp3/CD/DVD players and Bluetooth devices will never die on you. Supported brands include Blackberry, Canon, Casio, Fuji, JVC, Kodak, Lenovo, Minolta, Motorola, Nikon, Nokia, Olympus, Palm, Panasonic, Pentax, Samsung, Sharp, Shinco and Sony.
Another option with the RX4-AA is that it can be used as a portable AA battery charger with either an AC adapter or a USB port on your computer. The package includes the RX-4-AA, four AA rechargeable batteries, and an array of connectors for just about every device you can think of, and a handy carrying pouch to slip into your purse or pocket. Additionally, it is worldwide compatible with a 110V or 220V AC adapter. Find it at Mr. Ink Plus for $29.95 (located at 670 Auahi St. near CompUSA and at 94-370 Pupupani St. in Waipahu).
If you're a more of an iPod-focused individual, as with Turbo Charge, the iTurbo allows you to have a more compact option using a single AA battery. Note this is another item I dug up at the Consumer Electronics Show (CES) this year, and I can say it's deemed a "Made for iPod" product. It is compatible with the iPod mini, iPod nano, iPod with scroll wheel, iPod color and iPod video.
As with the RX4-AA, iTurbo isn't meant to replace your regular charger, but is meant to be used as a portable charger for emergencies when you're away from home or far from an electrical outlet. The iTurbo's playtime depends on the model of your iPod, but on a nano, it can provide about nine hours of listening time. Once the bright blue light on the iTurbo dies out, you know it's time to replace that AA battery. It has an on/off feature by twisting the bottom of unit, and the blue light will go off. Using this on/off feature will help you preserve the battery life.
I'll say having at least one of these devices is a must. The RX4-AA is for those of you that want portability for multiple devices, and the iTurbo (or Turbo Charge for your cell phone) is probably the way to go if you want something small to give you power in a dire situation, or just to have to make it a part of your natural disaster emergency kit.
Mr. Ink Plus will soon carry the iTurbo for $29.95, but if you can't find it there, you can buy it online at www.iturbocharge.com (online special price $24.95). It includes one iTurbo, one adapter and one AA battery, and you have the option to choose white or black.
Mr. Ink Plus also sells the Turbo Charge for your cell phone for $19.95.
Most Recent Comment(s):