A Look At CES 2006 Favorites

By
.(JavaScript must be enabled to view this email address)
January 27, 2006
|
Share

Del.icio.us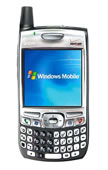 Palm Treo 700w
smart-phone
The 2006 Consumer Electronics Show (CES 2006) brought forth the latest gadgets for this year. I was unable to make it to the show this year, but I did have my moments of drooling from a distance and picked out some favorites:
A Smart Phone.
If you're an on-the-go businessperson, or just need to be in touch with everybody and know everything anytime, anywhere, the Palm Treo 700w
smart-phone is for you.
The smart-phone is the first Treo phone available on the Windows Mobile platform, and comes builtin with Microsoft Outlook Mobile and the Microsoft Office Mobile Suite (Word, Excel and Powerpoint). All of your MS Office documents from your computer will function perfectly on the phone. Combining this with the Palm technology and all the bells and whistles of a do-it-all phone gives you total hand/pocket convergence. It is a phone first, but you can also check your e-mail, use it as an organizer, messaging device, web browser and camera.
I'm usually not a fan of camera phones, but the smart-phone's camera quality isn't bad at 1.3-megapixels with a 2X zoom. The phone gives you 128MB of memory, with 60MB of that being dedicated user storage. The compact backlit QWERTY keyboard with square-shaped keys makes it easy to type, even in the dark. The five-way navigator located in the middle of the phone lets you do just about everything you need with one
hand, including skimming documents and scrolling through webpages.
I think the best feature of it all is the fact that it is high-speed EvDO capable (you may remember me writing previously about EvDO). It makes surfing the Internet sweeter than ever! It is the first Palm phone to support EvDO and you experience average download speeds of 400-600 kbps.
The Palm Treo 700w
smart-phone is available for about $399. Log onto www.palm.com/us for more information.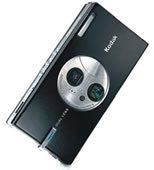 Kodak EasyShare V570
Kodak's Latest Compact Camera.
Kodak had several products to show off at this CES, but my favorite by far was the Kodak EasyShare V570. It's perfect for my purse at only an inch thick.
Using Kodak's proprietary Kodak Retina Dual Lens technology it uses an ultra-wide angle lens (23 mm) and an optical zoom lens (23-117 mm).
In addition to its 5X optical zoom range, it has a 5-megapixel capability and the ability to take television-quality video using advanced MPEG-4 compression. If you don't have steady hands, don't worry, because the built-in image stabilization reduces screen shaking from hand and camera movement. The optical zoom feature also works for your videos, plus you can save any frame in a video as a "freeze frame" still picture. A big, bright 2.5-inch high-resolution LCD screen makes it easy on the eyes to take your pictures or videos.
If you enjoy taking panoramic shots, this camera is perfect for you. The in-camera panorama stitching will combine three pictures into a panorama photograph. To do this, you would use the ultra-wide view in panorama scene mode, then take in a 180-degree sight with this cool feature.
Other camera features include automatic red-eye reduction, on-camera cropping, picture blur alert, 22 scene modes, three color modes, Kodak Color Science image processing (to produce accurate skin tones and rich color), the Photo Frame Dock 2 (provides one-touch picture transfer to your computer while keeping your battery charged and ready to go) and 32MB of builtin internal memory (with an SD card slot for additional storage).
The Kodak Easyshare V570 is available for about $400 on www.amazon.com
and will ship on Feb. 15 (free shipping).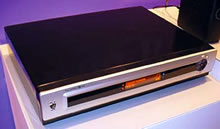 TiVo-Series 3
The Next TiVo-Series 3.
Along with probably most of you, I've come to love the convenience of recording my television shows I'm never home to watch, and being able to watch them later while fast forwarding through the commercials. For this very purpose, TiVo has become a household name.
We've seen their Series 1 and Series 2 - now, it's not exactly official, but a prototype of the next generation Series 3 HD Digital Media Recorder, with 300 hours of recording space, was revealed at CES. It will work with either analog or digital cable, but I say go with the digital to experience the most out of it. Additionally, an external
SATA drive will be available to store extra video that won't fit on your TiVo's hard drive.
Stay tuned for more details about the official announcement of TiVo 3 Series later on this year. Visit www.tivo.com to see TiVo's current availability.
Most Recent Comment(s):