A Mouse For The Other Hand

By
.(JavaScript must be enabled to view this email address)
April 07, 2006
|
Share

Del.icio.us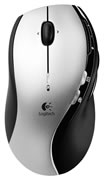 MX610 Left-Hand
Laser Cordless
Mouse
Living in a right-handed world, left-handers routinely encounter difficulties in their daily lives. Most of the challenges are trivial, but annoying and frustrating. No, I'm not a leftie, but I do sympathize with them since I do have a few friends who are left-handed. Since lefties account for approximately 10 percent of the world's population, it also means the average computer mouse is made for the right hand ... yet another thing that leaves the lefties feeling, well, left out.
When I was still doing technical support for the newspapers, I remember going to some computers and seeing the mouse on the other side of the keyboard. I would ask the user why it was like that. The answer would always be "because I'm left-handed, and it's easier to use it on the left side of the keyboard." I would feel sorry for them and think to myself that someone should invent a left-handed mouse some day.
Well, that day has arrived with Logitech's latest creation, the MX610 Left-Hand Laser Cordless Mouse. I realize that some lefties will still prefer to stick with the right-hand mouse usage, but to each his own.
The MX610 Left-Hand mouse is a mirror image of Logitech's award-winning MX610 Smart Mouse about which you may remember me writing a few months back, only this one is specifically sculpted to fit your left hand instead of the right. It features 10 buttons, including e-mail and instant messaging buttons that illuminate when new messages are received (with Microsoft Outlook, Windows Messenger and Yahoo! Instant Messenger). Its laser tracking allows you to work on just about any surface, even a wood table or a magazine. As with the other MX610, it features side-to-side scrolling and zoom with the tilt wheel, 2.4 GHz wireless (5x stronger than a standard cordless mouse) - use it about 30 feet away, and it comes with a five-year warranty with full product support.
The MX610 Left-Hand Laser has an approximate battery life of up to three months with regular usage (two AA batteries). It watches the power status of your computer so when your computer has gone to sleep or is shut down, the mouse also powers down accordingly. When the battery power is low (less than 10 percent of full charge), an indicator light illuminates and you'll know to change the batteries.
Logitech's MX610 Left-Hand Laser Cordless Mouse will be available sometime this month for $59.99. Check out www.logitech.com for more information or notification registration of the MX610's availability.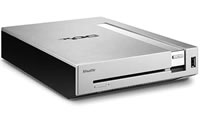 Shuttle's Tiny PC
Shuttle's Tiny PC. With my house becoming increasingly cluttered these days, space conservation is a big concern with me. This goes for everything, including my beloved computers and gadgets that unfortunately take up a lot of room. Each one of my computers has its own purpose, the Mac for work, the PC for gaming, and the others, well, various things. On the gaming side, it's mandatory for me to use a PC. Since I'm trying to have a space-efficient desk, for the past several years I've been using Shuttle PCs. Shuttles are known for being a fairly compact sized cube. But soon Shuttle is launching a PC that will be no doubt one of the smallest PCs around.
Measuring in at 8-by-11-by-2-inches, the Shuttle XPC X100 Ultra-Small Media PC is so tiny that it looks like a typical external FireWire drive. In this case, looks are deceiving. Inside the X100 is a full-scale computer powered by a 1.83 GHz Intel Core Duo mobile processor. It has an ATI Mobility Radeon X1400 128MB graphics chip, a 250GB hard drive, 512MB of DDR2 (Double Data Rate 2) memory, a 16x-speed DVD ReWriter, multi-format card reader, and it's home theater-ready with DVI or S-Video outputs. Additionally, its connections include Gigabit Ethernet, triple-band WiFi, FireWire, four USB 2.0 ports and it will be able to read most of your memory cards for easy photo/video synchronizing.
Since it's only a couple of inches longer than and has the same processor as Apple's Mac mini, it will give Apple a good run for the money. What I always enjoy about Shuttle machines is the fact that you can either purchase the units fully ready-to-go or a bare-bones chassis. As you might guess, I prefer to buy them the bare-bones way.
I have so much fun getting all the components together and putting together my own machine piece by piece. Because of its size, I'm not sure I can do that with the X100, but when it finally hits the market, I'll be all over it. The X100 could very well be my next PC.
For you hardcore folks, Shuttle will also offer the X100 with up to 2GB of DDR2 memory and a 400 GB hard drive. Also ATI will announce a faster graphics chip, the X1800, that will be included in future Shuttle XPC X100 series machines. As far as I know, there are silver-gray and dark-gray case colors available. The X100 series is expected to sell for around $1,000 and while there is no official word on when you can purchase it, it's expected be on the market around June. Keep your eyes on Shuttle's website for updates and more information: www.shuttle.com
Most Recent Comment(s):