A Netflix Partnership With Roku

By
.(JavaScript must be enabled to view this email address)
May 28, 2008
|
Share

Del.icio.us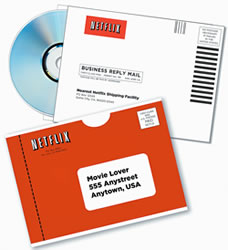 Last week I randomly decided to cancel my Blockbuster membership, and coincidentally a day later Netflix announced its partnership with Roku Inc., an innovator in digital media streaming technology. The result was I revived my Netflix membership so I could play with this new Netflix Player by Roku. Funny how that worked - maybe my instincts told me something was going to happen again in the movie-rental industry.
It's interesting to think back how Netflix initially rocked the movie rental world with all those red envelopes we've come to know and love. Following that came the pricing wars with Blockbuster and the streaming movies online. Now we see this new player - it sort of reminds me of the Vudu box I recently wrote about. The Netflix Player allows Netflix subscribers to instantly stream the growing library of movies and TV episodes from Netflix directly to the TV. With its $99 price, it won't break your wallet.
On the outside, it's small - about the size of a paperback book. On the inside, it gives you instant access to more than 10,000 movies and TV episodes.
"We're excited to bring the first Netflix ready device to the market," said Anthony Wood, CEO and founder of Roku. "The seamless integration of the Netflix service into our player has resulted in true ease of use for the consumer. Now, streaming video isn't limited to people sitting in front of the PC; it's ready for the TV in the living room."
The Netflix Player by Roku can easily integrate into your home entertainment system. All it takes is connecting the player to your TV (via HDMI, composite or component) and
into your high-speed Internet connection (minimum 1.5 Mbps). It's Wi-Fi enabled (802.11 b/g), so physical placement is no problem.
"The key breakthroughs of the Netflix Player by Roku are simplicity and cost," said Reed Hastings, chairman and CEO of Netflix.
"First, it allows consumers to use the full power of the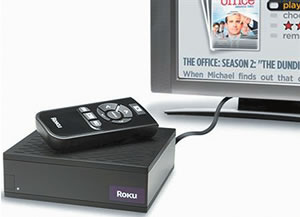 Netflix Web site to choose movies for their instant queue, and then automatically displays only those choices on the TV screen. That's a major improvement over the clutter of trying to choose from 10,000 films on the TV. Second, there are no extra charges and no viewing restrictions. For a one-time purchase of $99, Netflix members can watch as much as they want and as often as they want without paying more or impacting the number of DVDs they receive."
From the Netflix website you add your desired movies and TV shows to your instant queue. These choices are then displayed on your TV and can be watched instantly. Basically, the box acts as a bridge that brings these movies and TV shows to your TV with your Internet connection. You can then display them and stream them at any time. Do note that the selection consists of mainly older titles, but as time goes on, hopefully the newer ones will be available for streaming soon.
The Netflix Player is high-definition (HD) ready and capable of playing the HD content, but there's currently no HD content available. The quality of the video you see will depend on your Internet connection speed. As long as you minimally subscribe to the $8.99/month unlimited plan, you automatically qualify to purchase the player. Netflix plans start at $4.99 a month (one title out at a time, two per month) to $47.99 (eight titles out at a time, unlimited) - www.netflix.com.
Most Recent Comment(s):