A New, Souped-up Gran Turismo

By
.(JavaScript must be enabled to view this email address)
December 29, 2006
|
Share

Del.icio.us

If you were one of the lucky ones to score a PlayStation 3 (PS3), hopefully you discovered Sony's Christmas gift to you - a free download of Gran Turismo HD Concept. It will only be offered for a limited time, so if you haven't downloaded it already, you should take advantage of this as soon as you can!
I've always been a huge fan of the Gran Turismo games, and was looking forward to this version coming out. The first thing that caught my eye was the astounding graphics. I must say that the PS3 is the perfect machine on which to play this game. You can see everything so clearly, from the details on the cars to the snow-capped mountains in the background. It definitely takes complete advantage of the PS3's hardware performance by providing you with full HD 1080p resolution.
The game was developed by Polyphony Digital Inc. and features an all-new course for you to be the first to drive a Ferrari on a PS3. You'll have access to the Elger Nordwand course, and can compete in Time Trial races to collect and unlock new cars. As you go on the cars become better and better. Upon unlocking your first 10 cars, you'll then have access to 10 more "Tuned Cars" and a new driving mode called "Drift Trial."
The "Drift Trial" mode allows you to master the art of drifting and achieve ultimate control of your car. Your drifting technique will be tested as opposed to your lap time. You earn drift points based on your drift angles, racing lines and speeds within evaluation zones located at various turns on the course. For each evaluation zone, the results are based on the number of flags and a numerical figure. The point total from all zones determines the players drift points for the lap and is counted toward the rankings.
While you're connected to the PlayStation Network (PS Network), you can upload your times and view the Top 10 rankings for each car and mode, along with play and save replays online. You can even view other driver's trials for yourself. Doing this is actually beneficial to motivate yourself and watch how others handle the track while admiring your PS3's wonderful graphic quality.
Here are the featured cars in Gran Turismo HD Concept, in order of how you unlock them:
1995 Suzuki Cappucino 1989 Mazda Eunos Roadster 2004 Acura Integra TYPE R
1996 Mitsubishi Lancer
Evolution IV GSR
2006 Infiniti G35 Coupe
2005 Mitsubishi Lancer Evolution IX GSR
2005 Lotus Elise 111R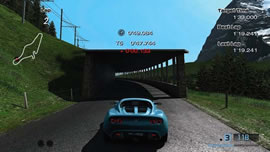 1994 Nissan SKYLINE GT-R Vspec II 1995 Toyota Celica GT-FOUR Rally Car 2006 Ferrari 599 The "Time Trial" mode lets you unlock these cars by beating the target time on the Elger Nordwand course. In addition to the access to tuned cars upon unlocking all the cars, you'll have the option of racing the course in the opposite direction. Also note that you can drive with either automatic or manual transmission, set your traction level, stability management (to prevent skidding) and select your own tires (front and rear).
The award-winning Gran Turismo franchise has so far sold more than 45 million units worldwide for the PlayStation platforms. It is the racing game of choice among the automotive and gaming audience for its true-to-life graphics, physics, real-life cars and tracks. "Gran Turismo HD Concept provides the PS3 and automotive fans a glimpse into the future of Gran Turismo," says Kazunori Yamauchi, famed creator of the Gran Turismo franchise. "With the power of the PS3 technology, the world of Gran Turismo is refined by its full HD visual presentation and unique interactive experience, resulting in an even more realistic and true driving simulator."
Take advantage of the free Gran Turismo HD Concept download yourself by connecting your PS3 to the PlayStation Store (PS Store). It has an ESRB rating of "E" for Everyone. Other available free (downloadable) PS3 games available are Blast Factor (action arcade), Calling All Cars (action arcade), flOw (Zen), Go! Sudoku (puzzle), Go! Swizzleblock2 (puzzle) and Lemmings 2 (puzzle).
Most Recent Comment(s):