A New UH Computer Engineering Degree

By
.(JavaScript must be enabled to view this email address)
April 28, 2010
|
Share

Del.icio.us

From my late father to my uncles and cousins, I have a whole family that came out of the University of Hawaii's (UH) College of Engineering. This fall, the College of Engineering will begin accepting applications for a new bachelor of science degree in computer engineering. Too bad this wasn't available when I was about to graduate high school many moons ago.
"We are very excited about the addition of computer engineering to our degree offerings," says Peter E. Crouch, dean of the College of Engineering. "We are now better positioned to attract students to the college in an important area of engineering for Hawaii."
The computer engineering degree program will be taught collaboratively by faculty from the College of Engineering's Department of Electrical Engineering and the College of Natural Sciences' Department of Information and Computer Sciences. The curriculum will be devoted to computer hardware and software, computer organization and architecture, computer security, software engineering, computer networks and Internet technology, embedded systems, computer-aided design, multi-core and parallel computing, and wireless networks.
"Computer engineering is a combination of both electrical engineering and computer science," said Alan H. Teramura, interim dean of the College of Natural Sciences. "It made perfect sense to combine our expertise from both colleges to create this exciting new degree offering at UH Manoa."
If you're interested in this degree, you can submit a completed application to the UH Manoa Admissions and Records Office. If applying as a freshman, you also must submit your SAT or ACT scores and high school transcripts. Additionally, you should already have algebra, trigonometry, analytic geometry, physics and chemistry classes under your belt. Visit www.ee.hawaii.edu for more information.

Click Chick's iPhone App of the Week: Field Agent
Field Agent pays you money to use it! The process begins with a client who needs information creating a job requesting specific information with the Field Agent Web site (www.fieldagent.net). Field Agent then reviews and broadcasts a request to agents (iPhone users with the Field Agent app installed).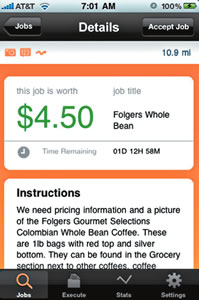 "Now more than ever, companies are looking for ways to efficiently gain field intelligence on products and services," said Kelly Miller, co-founder of Field Agent. "In an economy where unemployment is near record levels, it's rewarding to be part of an idea that can create income for thousands of people."
You, as an agent, use your iPhone to collect and return information and receive payment for your service. The payments can range from $1 to $8, depending on the job's degree of difficulty.
Information requested by clients may include retail pricing and display information, event images, photos of items for sale and consumer surveys that can be completed anywhere an iPhone can be used.
When you want to claim your money, you need to do it from the Field Agent Web site, and it's paid out through PayPal within 48 hours. Download Field Agent for free at the iTunes App Store.
Most Recent Comment(s):