A Power Station Traveller Plug

By
.(JavaScript must be enabled to view this email address)
August 04, 2006
|
Share

Del.icio.us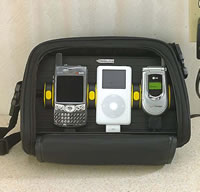 The Power Station Traveller
I own so many gadgets that need to be recharged, it's a spaghetti mess to keep track of what cord goes with each item. Additionally, when I'm traveling, the hotel room usually won't have enough outlets for me to plug in all my digital toys, so I've learned to travel with a power bar to keep it all together and still have enough power sources. I just hate to have them scattered across the room and plugged into whatever available outlet there is. It makes me paranoid that I'll leave something behind.
Because I'm an organized person, I really love the new Power Station Traveller, made by ReSource Inc. It makes life a bit easier by allowing me to simultaneously plug everything (well, at least three things at a time) into one place without worries. The device lets you conveniently charge up to three portable electronic devices concurrently while you're on the go. You can have your iPod, cell phone and PDA plugged into this at the same time it's plugged into either your wall or your car (using the DC adapter). The Power Station Traveller's handy carrying case opens up the capability for you to bring along all the cords you need for your devices and other accessories you may need. It's basically a small bag in which you can stash everything without having to worry about losing the cords or your other accessories.
It has adjustable built-in sliders to securely hold your gadgets in place while driving or on the move. The compact size gives you the ability to tote your stuff easily with its hand-carry strap and adjustable shoulder strap. It is made out of a heavy-duty luggage quality material for extra durability. This device is perfect for the frequent traveler or if you're on the road often.
It comes with a one-year warranty on all manufacturing defects and is compatible with all iPods, including the shuffle. It will also work with just about any other electronic device or phone you may have. You will never leave your charger behind again or spend your valuable time digging around a hotel room looking for multiple wall outlets.
The Power Station Traveller is available for $39.95 (plus shipping) at www.welovemacs.com. In addition, you can purchase the optional iPod and Power Station Traveller AC/DC Converter for $14.95. You can then plug the Power Station Traveller into the AC wall adapter at home or in your hotel room while you're traveling. This is a good inexpensive solution for you to charge your iPod using an AC adapter without having to worry about your iPod charger. Unfortunately no local Hawaii vendors carry either of these products yet, so you'll have to buy both from the website above.
Most Recent Comment(s):