A Scooba Does The Mopping

By
.(JavaScript must be enabled to view this email address)
June 10, 2005
|
Share

Del.icio.us
If you work all day as I do, it's always nice to come home to a clean house. I hate to take off my shoes and step on little crumbs or leftover cat food on the floor, that's one of my pet peeves. It's not like I have a floor-cleaning fairy or can afford to pay for a maid, but I definitely need help cleaning up with my busy schedule.
iRobot has solved that problem with its robots. iRobot's products are aimed at the "hate to do it" and "have to do it often" chores. In the future, iRobot will eventually launch an entire suite of housework robots. But for now, it's best known for the Roomba robotic vacuum cleaner, which hit store shelves in September 2002 and sold approximately 1.2 million since. The latest edition to the iRobot family is a robotic mop called Scooba.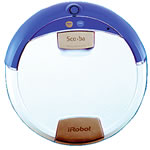 Scooba safely scrubs hardwood, tile, linoleum or any other bare floor. It sprays and scrubs water and cleaning fluid onto the floor as the robot's front end passes over. The back end then sucks the excess water into the dirty water tank to be dumped using its artificial intelligence. iRobot recommends only using Clorox for the cleaning fluid to prevent the Scooba from skidding or spinning its wheels. A partnership with the Clorox Company and iRobot was formed to develop a specially engineered cleaning solution for Scooba.
Scooba has many of Roomba's features but it's more complicated because of the design to automatically vacuum, scrub and dry hard floors, and not just vacuum. It is 13 inches in diameter and four inches high, keeping the similar shape of the Roomba. There are two tanks attached, one for the water/cleaning fluid mixture and one for the dirty water.
No exact price has been established yet for the Scooba, but it will be a little more than a Roomba, which sells for $150 to $300. You can watch a demonstration of the Scooba at www.irobot.com and dream of your own freedom from the mop.
Finally, A Real Camera Phone. Many people have been asking me for a good camera phone recommendation. I've never taken cell phone cameras seriously, so I've always answered that question by saying, "cell phones and cameras don't mix. Don't buy a phone for its camera capability if you actually want decent pictures because you won't get it."
I don't say that anymore since Sony launched its newest camera phone.

The Sony Ericsson S710a camera phone takes its phototaking phototaking capability seriously. The S710a has a new, unique 180-degree swivel-open design that easily converts from mobile phone to digital camera. With its 1.3 megapixel picture quality, 8X digital zoom, photo light, and 2.3- inch color screen, it is by far the best camera phone on the market today. The pictures are sharp and vibrant. Now I have the confidence to travel light and not carry my regular camera with me.
All images, pictures, music and video clips can be stored either in the phone's 32 megabytes of internal memory or the included 32- megabyte Memory Stick Duo card. Of course you can always upgrade to a larger Memory Stick Duo to maximize the capacity of the S710a.
The S710a is a tri-band phone (GSM/GPRS/EDGE) to provide fast access to messaging, content downloads and interactive online gaming. It has Sony Ericsson's QuickShare feature, which allows you to rapidly send and download picture messages, e-mails, music and games. It also includes an MP3 player (don't throw away your iPod for that feature), MusicDJTM (to personalize ringtones) and has up to seven hours of talk-time and 300 hours of standby time.
Star Wars fans will appreciate the special Star Wars Edition of the S710a. It comes complete with Star Wars ring tones, graphics and interactive software from Star Wars III-Revenge of the Sith. The S710a is offered exclusively by Cingular for $299.99 with the activation of a new plan (www.cingular.com). If you can get past its high price, you'll be rewarded with its nice high-resolution pictures and all the multimedia extras.
.(JavaScript must be enabled to view this email address)
Most Recent Comment(s):
Commenting is not available in this weblog entry.