A Seat Guru For Airline Travelers

By
.(JavaScript must be enabled to view this email address)
August 23, 2006
|
Share

Del.icio.us

I'm very particular about where I will sit on an airplane. I hate sitting next to the lavatories because of the smell, and I don't enjoy being squished in the middle of a row somewhere, whether it's a three- or five-seat row. I prefer to have a bulkhead or emergency exit seat so I can stretch out my legs (I'm tall, so this is helpful).
Let me tell you ...
on a plane ride home from Los Angeles, I had the worst experience ever.
I was stuck in the middle of a five-seat row, located next to the bathroom. My worst living nightmare. There were no other seats available, so I had no choice. The person in front of me decided to recline his seat, I had my laptop folded open, standing up on its bottom on my leg, and the screen almost touching my chest, while typing with my elbows extended out. I ended up elbowing my husband and the lady next to me, as I was "trying" to type out my MidWeek column that was due right after the plane landed. I was squished, not to mention angry! Needless to say, I will never fly again without checking this nifty website I found called SeatGuru.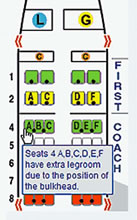 If you're a discriminating airplane traveler, as I am, you will appreciate SeatGuru, and you'll never leave home without looking at it first. It will be your ultimate source for finding out airplane seating, in-flight amenities and airline information. This website provides you with detailed seat maps, and in-depth seat-specific comments denoting seats with limited recline, reduced legroom and misaligned windows.
The color-coding helps you identify superior and substandard seats. You'll see green for a good seat, red for a poor seat and yellow for "be aware." The power port locations are noted with a dot, and the galley, lavatory, closet and exit row locations are indicated with a colored G, L, C, or red arrows for the exit locations. I try to go for all the green-colored seats, preferably with the power ports.
To start off, use the alphabetized menu on the left, and select the airline and aircraft you will be flying on. You can then view the airline's general information page, which provides you with quick links and contact information. You can navigate through the tabs on tips on Check-In, Baggage, Unaccompanied Minors and Traveling with infants for fun.
A full diagram of the plane will appear, complete with a seating chart. It also includes row numbers and the amount of seats in First Class and Economy Class.
You can mouse over the seats to view complete seat descriptions and comments. It will even tell you the seat pitch and seat width at the top of the page. For your own sanity, just look for the green seats -green is good.
To further improve your flying experience, look for the amenity icons. These show the in-flight services available on your airplane. Each plane's page has an in-flight amenity box. The amenity icons represent the services that are available on the aircraft you're viewing. The icons you'll see are: Audio, Video, AC power, Internet, Food and Infant. You can click on the individual icons for details and links to additional information. If the icon you're looking for isn't pictured, that service is not offered on the aircraft.
Visit www.seatguru.com to become seat-smart on your next trip.
Most Recent Comment(s):
For all comments click here.