A Serious Challenger For Google

By
.(JavaScript must be enabled to view this email address)
August 05, 2009
|
Share

Del.icio.us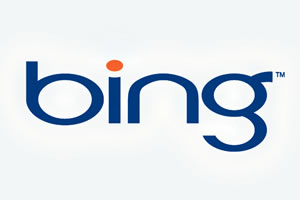 The first time I saw one of those Bing commercials on TV, I thought, "Oh no. Another search engine trying to copy Google." The online critics and cynics joke that Bing is an acronym for "But It's Not Google."
Believe it or not, in some ways Microsoft's Bing may actually be better than Google, depending on what you're searching for. I noticed Bing comes back with better results when searching for travel (perhaps it's because it uses the farecast.com engine).
Bing initially launched in early June and Microsoft describes it as being a "decision engine" designed to empower people to gain insight and knowledge from the Web, moving more quickly to important decisions. It was developed as a tool to help you easily navigate through the Internet's information overload you may see in a typical online search.
A comScore Inc. study across core search engines showed that as many as 30 percent of searches are abandoned with an unsatisfactory result. The study's data also showed that approximately two-thirds of the remaining searches required a refinement or re-query on the search results page.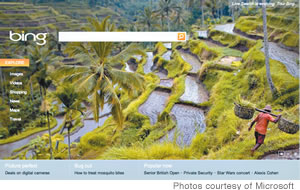 "Today, search engines do a decent job of helping people navigate the Web and find information, but they don't do a very good job of enabling people to use the information they find," said Steve Ballmer, Microsoft CEO. "When we set out to build Bing, we grounded ourselves in a deep understanding of how people really want to use the Web. Bing is an important first step forward in our long-term effort to deliver innovations in search that enable people to find information quickly, and use the information they've found to accomplish tasks and make smart decisions."
From Google, you'll usually see a long list of blue links with an occasional photo. Bing does this as well, but instead of the plain white background you see on Google's homepage, you'll see a pretty picture on Bing's.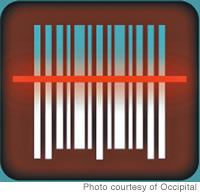 Bing tries to make sense of your search with a list of common-sense links pertaining to your search (i.e. with a typical medical condition you'll see a list with symptoms, causes, remedies, treatment, prevention and news).
Related searches are easily pulled up with a single-click and match your word(s) as well as subject matter. Additionally, when you do an image search, it's nice that the pictures scroll forever instead of having to click Next, Next, Next as you do with Google.
The next time you need to look for something online, try Bing for yourself: http://www.bing.com. And, if you feel up to doing a comparison, check out http://www.bing-vs-google.com. It offers you a side-by-side view of the two search engines.

Click Chick's iPhone App of the Week:RedLaser
Occipital's RedLaser app is the first bar code reader application that actually works. It works as one of those red-laser scanners you see at the checkout counter, hence its name. It uses your iPhone's camera as the scanner.
RedLaser supports all standard UPC and EAN bar codes (the most common formats used around the world). It recognizes just about everything you scan. Scan your items and the app instantly will have access to various online pricing and information. (For example, you'll typically see the item and price pop up on amazon.com.) The best part about it for programmers is that they've made a software development kit so others can integrate it into their apps as well. Find RedLaser at the iTunes App Store for $1.99.
Most Recent Comment(s):