A Sneak Peek At Apple's Newest

By
.(JavaScript must be enabled to view this email address)
October 27, 2010
|
Share

Del.icio.us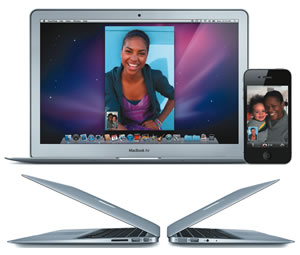 OS X Lion
Last week Apple gave the world a sneak peek at its newest operating system, OS X Lion, the eighth major release. Lion is slated for release next summer and is inspired by the iPad's many software innovations. Last week's announcement highlighted the new additions: Mac App Store, Launchpad and Mission Control.
"Lion brings many of the best ideas from iPad back to the Mac, plus some fresh new ones like Mission Control that Mac users will really like," says Steve Jobs, Apple's CEO. "Lion has a ton of new features, and we hope the few we had time to preview today will give users a good idea of where we are headed."
The Mac App Store brings the revolutionary App Store experience you find on your iPhone/iPad/iPod touch to your computer, making discovering, installing and updating Mac apps easier. This will be available for Snow Leopard users in about three months, and will come standard with Lion.
Similar to the Home screen on the iPad, Launchpad makes it easier for you to find and launch any app. Here you can organize, group and swipe through multiple pages of apps to find the one you want.
Lastly, Mission Control presents you with a unified view of every app and window running on your Mac, so you can instantly navigate anywhere. It also incorporates the next generation of Exposé, Dashboard and Spaces.
FaceTime Beta For the Mac
If you have an iPhone 4, you're probably already enjoying FaceTime calls with your fellow iPhone 4-owning friends. The biggest complaint when this first came out was that you could only use FaceTime if you had an iPhone 4. Apple listened to the requests and released a FaceTime beta for your Mac.
FaceTime for Mac automatically uses your Address Book contacts so there is no need to create special buddy lists. Once it's installed, the program doesn't need to be running in order to receive a FaceTime call - FaceTime launches automatically when a call comes in.
The nice thing about this is that it doesn't use any minutes for your iPhone 4-using counterparts. However, FaceTime for the Mac does require Mac OS X Snow Leopard and an Apple ID. Download the free public beta at apple.com/mac/facetime.
New MacBook Air
According to Apple, its new line of MacBook Air is the first of a next generation of notebooks that will replace mechanical hard disks and optical drives with Internet services and solid state flash storage. The new MacBook Air is available in 11-inch and 13-inch models, and uses the same solid-state technology as the iPad to deliver instant responsiveness, up to seven hours of battery life and up to 30 days of standby time.
The machine measures an incredibly thin 0.11-inches at its thinnest point and 0.68 inches at its thickest, and weighs just 2.3 pounds for the 11-inch model and 2.9 pounds for the 13-inch. As with the iPad, MacBook Air was designed to exclusively use flash storage.
Apple's new MacBook Air is available now and comes loaded with Mac OS X Snow Leopard. Prices start at $999 for the 11-inch model and $1,299 for the 13-inch model.
Most Recent Comment(s):