A Sneak Peek At Halo: Reach

By
.(JavaScript must be enabled to view this email address)
May 12, 2010
|
Share

Del.icio.us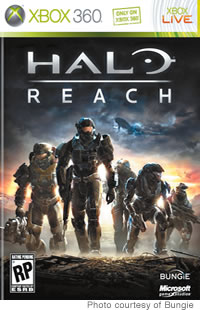 The much-anticipated Halo: Reach game is slated to come out this fall, but if you already own Halo 3: ODST, you can download the Halo: Reach beta via your ODST disk now. Since May 3 and going on through May 19, this beta is open to millions of people to experience and test out Halo: Reach.
Building upon the successes of its predecessors, Halo: Reach breaks new ground with a host of new content and features, and claims to deliver the most thrilling and feature-packed multiplayer experience yet. With new game types, weapons, armor abilities, players rewards, customization options, social settings and more, this multiplayer beta introduces a wave of innovations that will take the award-winning Halo multiplayer experience on Xbox LIVE to the next level.
Additionally, an introduction video to the Halo: Reach beta debuted on the Halo 3: ODST game disc. Since the beta became available, the video is available from multiple sources (Google "Aisha Tyler Halo video" and you'll see many links to choose from). In this lighthearted video, actor Aisha Tyler breaks down all the action-packed new game types in the beta and offers insider tips, all while wielding a variety of life-size Halo weaponry. It's a must-watch for any Halo fan.
On a side note, Halo no longer falls under Microsoft. Activision recently took over Bungie's Halo franchise, so it should be interesting to see if there are any drastic changes. I doubt it, but if there are, it can only be good.
"We chose to partner with Activision on our next IP because of their global reach, multi-platform experience and marketing expertise," says Harold Ryan, president of Bungie. "From working together over the past nine months on this agreement, it is clear that Activision supports our commitment to giving our fans the best possible gaming experiences."
Stay tuned to Bungie.net and Halo Waypoint on Xbox LIVE throughout the Halo: Reach beta for regular updates and original content, including new videos, interviews, montages, highlight reels and screenshots and updates on the latest playlists and community-organized multiplayer matches.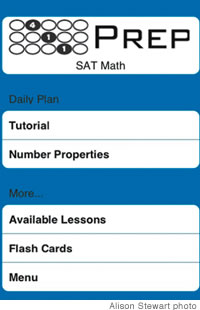 The full version of Halo: Reach is available for pre-order from participating retailers worldwide in Standard, Limited and Legendary editions. Developed by renowned studio Bungie, Halo: Reach launches in the fall of 2010 exclusively on Xbox 360.

Click Chick's iPhone App of the Week - 411 Prep: SAT Math
My friend's daughter has been studying for and taking SAT and ACT practice exams over the last couple of months, so it prompted me to do some research on what might be out there for the iPhone/iPod touch/iPad. Since my weakness is math, I hunted for one that would help in that area, and found 411 Prep: SAT Math.
Even though I'm not studying for anything, I went through most of it and it was a great review of what I learned in school many years ago. I can see this helping a student review for "the big test." This SAT Math app was designed by a SAT tutor and it includes detailed lessons that review math the way it is tested on the SAT. There are more than 500 different question types so you won't have any surprises on test day.
The Dynamic Flashcards are great - there are more than 2,600 of them to choose from and I can see these helping you spot similar questions on test day. You also can set goals and target your studying for a specific score so you can tailor your preparation strategy and go through the practice exercises in the right frame of mind. I highly recommend this as a supplement (not as a substitute) for the test prep. The best part of it is the portability to have it downloaded on your device without having to lug around clunky books.
Download the 411 Prep: SAT Math app for $4.99 at the iTunes App Store.
Most Recent Comment(s):