A SPOT on device for outdoor enthusiasts

By
.(JavaScript must be enabled to view this email address)
April 04, 2008
|
Share

Del.icio.us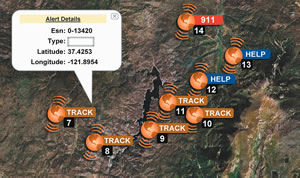 I first saw SPOT, an honoree of the Consumer Electronic Association's (CEA) 2008 Innovations Design and Engineering Award, at this year's Consumer Electronics Show (CES). Its booth initially caught my attention with its bright orange color "yelling" at me. Targeted toward the outdoor enthusiast, the SPOT Satellite Messenger is the first personal messaging device that allows you to notify your friends, family or an international 911 emergency call center with status messages based on your situation and need.
SPOT incorporates both GPS and commercial satellite technology that provides coverage far beyond your cell phone. It offers three message options, plus the ability to create a record of your progress for later retrieval using Google Maps.
"SPOT represents a quantum leap in personal safety devices,"said Darren Bassel, director of retail marketing for SPOT Inc."It gives users a family of features that until now have not been available, and it does it at a fraction of the cost of the more limited devices presently available."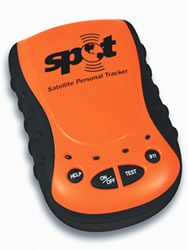 Weighing in at about 7 ounces, SPOT is ideal for hikers, backpackers, hunters or other outdoor junkies, especially if you are out of range of cell phones.
The device has four function keys that transmit messages based on varying levels of need:
* Alert 911: Dispatches emergency responders to an exact location
* Ask for Help: Sends a request for help with your location to friends or family.
* Check In: Lets contacts know where you are and that you are OK.
* Track Progress: Sends and saves your location and allows contacts to track your progress with Google Maps.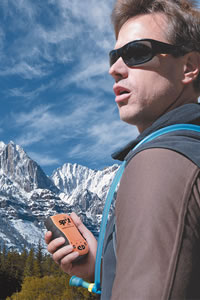 SPOT is very much designed for extreme conditions and coverage includes virtually all of North America, South America, Europe and Australia, northern Africa and Northeast Asia, along with thousands of miles offshore from these areas. You'll receive 24-hour support while enjoying its long AA battery life (power on, unused - one year; tracking mode - 14 days; 911 mode - seven days; SPOTcheck - 1,900 messages). It also will survive if dropped and will float in water. The bright orange color makes it difficult to misplace, and it'll work virtually anywhere from -300 feet to 21,000+ feet altitude, and in temperatures from -40 F to +185 F.
The National Association for Search and Rescue estimates more than 50,000 search and rescue missions are initiated each year in the United States alone, and many of these are without knowing the exact location of the missing party. Definitely raising the chances of being found, SPOT uses its GPS technology to determine your exact location and transmits both the location and status information via the SPOT Satellite Network, a commercial network with a 99.4 percent reliability rate. It's a Commercial LEO (Low Earth Orbit) Satellite constellation.
On the plus side, SPOT is less expensive than a Personal Locator Beacon and does work in areas with no cell phone coverage. On the negative, it does not work in Hawaii yet, but will hopefully soon. To me, that really is not a big deal since this would be something I would use mostly on the Mainland or other parts of the world anyway. Additionally, satellite receiver requires unobstructed line-of-sight to the sky to work properly and cannot track you while indoors or in a car. Overall, if you do venture out into the boonies often, this is probably a good thing to have for your own safety.
SPOT has a retail price of $169.99 for the device itself and an additional service fee of $99.99 per year (or $9.99 per month).You can buy this at www.findmespot.com or www.amazon.com
Most Recent Comment(s):