A Virtual Tour With Google Street View

By
.(JavaScript must be enabled to view this email address)
November 18, 2009
|
Share

Del.icio.us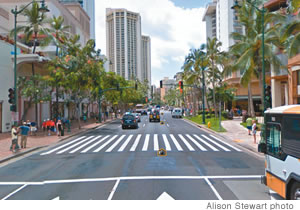 A Google Street View of Waikiki
Hawaii was the only state for years that didn't have Google Street View - now it's finally here! Google announced high-resolution imagery of Oahu and Maui has been added to Street View on Google Maps, and that Hawaii is the 50th state to be featured in Street View (saving the best for last). I knew this would be coming soon since the Google Street View camera car was spotted on-island earlier this year.
Just a little background: Google Street View is a free feature you can use on Google Maps to virtually explore and navigate through roads and neighborhoods. You can wander down the streets of cities around the world, even if you want to gaze up at the Tokyo Tower in Japan or gander at the ancient ruins in Rome. The pictures are taken with special Street View cars that have unique cameras mounted to them. The cars take pictures at various angles as they drive down the street.
Street View first launched in May 2007 and has become popular worldwide. Comparing it now to what it used to be, I can say that Street View has really come a long way. Just to test it out, I Street Viewed multiple friends and family members' houses here on-island as well as on the Mainland, and I found just about all of them. Amazingly, their houses even popped up in the smaller towns on the Mainland!
There are some privacy concerns about the photos used in Street View. Since they are taken on public property, you could very well see yourself in a Google Street View image (maybe even doing something embarrassing such as picking your nose). Not to worry though, using face-blurring technology, all faces and car license plates are blurred out and unidentifiable. And, if you prefer to not have your picture included at all, you can request to have it removed.
Take a few moments to enjoy a virtual trip with Street View at maps.google.com or use your Google Earth (earth.google.com).
Click Chick's iPhone App of the Week: Flying Without Fear
Afraid of flying? There's an app for that. Since we live on an island, a fear of flying is bad if you need or want to travel. Of course, you could always take a boat as they did in the old days, but that's not really practical. To help you overcome your fear of flying, Virgin Atlantic released an iPhone app based on its Flying Without Fear course.
It starts off with an introduction video with Sir Richard Branson himself (owner of Virgin Atlantic) as he welcomes you to the app. You'll then be taken through the stages of flight from a Virgin Atlantic pilot. He takes you from the beginning pre-flight to the final stages of flight, to landing. He's also sure to include the different noises you'll probably hear. Part three of the course answers common questions people have, split into various categories: engines, landing, pilots, sounds, takeoff, weather and wings.
After all that, you can start the exercises and rate your fears on a scale of "no fear" to "terrified," in categories ranging from mechanical failures, emergency landings or even booking a flight. There are relaxation exercises that teach you to contain your panic.
Of course, this app won't completely cure fears of flying, but it's very educational to someone who may need it. Find it for $4.99 at the iTunes App Store.
Most Recent Comment(s):