All 'Star Wars' All The Time

By
.(JavaScript must be enabled to view this email address)
May 13, 2005
|
Share

Del.icio.us
I don't know about you, but I'm looking forward to the movie Star Wars: Episode III — Revenge of the Sith due in theaters May 19. Call me a geek. I don't care. I'm one of those people who will buy my Star Wars movie tickets before the opening day, and then stand in line with a Star Wars T-shirt that says "May The Force Be With You," at least two or three hours before the movie starts to make sure I get a good seat!
With all big movies it's the norm to see it being promoted all over the place … cereal boxes, action figures, water bottles, shirts, pins, under-roos (sorry, I draw the line at Star Wars underwear), and of course video games. The gaming industry rakes it in when it comes to these big movies. Hey, all good with me, since it allows me to see scenes from the movie before it's released. I experienced this with The Lord of the Rings trilogy, the Spidermans, and now with the latest game-movie release from LucasArts, Star Wars Episode III: Revenge of the Sith.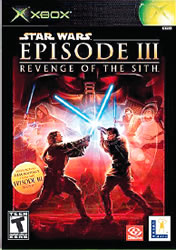 Before the movie, the video game
In the Episode III video game, you can control all the Jedi abilities of both Anakin Skywalker and Obi-Wan Kenobi. This includes devastating Force powers and advanced lightsaber techniques involving combo attacks and defensive maneuvers. As Anakin you unleash the power of the dark side in ruthless lightsaber and Force attacks. As Obi-Wan, you struggle to save the galaxy from darkness by focusing the power of the light side into precise lightsaber attacks and using the Force to control enemy actions. The Force powers include the Force Stun, Sith Lightning and Jedi Mind Trick.
There's over 12 minutes of actual footage from the movie while you live the exciting moments through Anakin Skywalker and Obi-Wan Kenobi's perspective. The fights have a series of lightsaber battles against challenging enemies such as droids, humans and Jedi. Sixteen levels move across different worlds including Coruscant, Utapau (the sinkhole planet) and the volcano world of Mustafar. The immersive Star Wars music and authentic sound effects recorded at Skywalker Sound makes it feel like you're there (especially if you're playing in a room surrounded with speakers).
Star Wars Episode III: Revenge of the Sith The Video Game is available for your Playstation 2
or Xbox
for $49.99 at your nearest CompUSA or at Amazon.com
.
The Digital Living Room The introduction of Digital Video Recorder (DVR) devices in 1999 with TiVo revolutionized the way Americans watch TV. At least I know it's changed the way I watch TV. I'm not usually home when my favorite shows come on. With my DVR, it's so easy to program shows — a few clicks got me an entire season of Desperate Housewives.

Oceanic's digital recorder
A DVR is a device that allows you to record hours and hours of television on a hard drive without having to buy piles of VCR tapes. It lets you pause and rewind TV shows even while they are airing. I tried two different services, TiVo and Oceanic Time Warner's DVR. They each have their good points. With both you can pause or replay a scene as you're watching TV. Tivo
does retroactive recording — if you turn on the television 25 minutes into Oprah, you can rewind into the past while the TV was off and watch it from the beginning. You can control Tivo
from the Internet, so while you're at work and forgot to schedule something in the morning, no problem, just log into the Tivo
website and add a show. Oceanic does not have these features.
Oceanic's service allows you to record up to two shows simultaneously, whereas Tivo
allows for only one at a time. Oceanic has the option to record in full resolution, high definition for the few channels that do offer HDTV. With a Tivo
box, you can change out the hard drive for a bigger one (drool), and tinker with it. With Oceanic's box, if you touch its insides, it probably won't work properly again. Tivo
also offers TiVoToGo, which allows you to copy your favorite shows to a PC to burn to a DVD.
Balancing all the features, I'm going to stick with my Oceanic box for an additional $9.95 a month added to my cable bill. I do enjoy the HDTV feature it offers and the fact that you can record two shows at once. You don't have to pay for the box too. New subscribers must pay a few one-time installation charges that vary, based upon what extra channels and features are ordered.
For a Tivo
, you'll pay $12.95 a month subscription or a onetime $299.00 for product lifetime. (This fee gives you access to the television listings in order to program the TiVo.) In addition, you still need to purchase a TiVo box, which can be found just about anywhere electronics are sold. For more information, contact Oceanic Time Warner Cable at 625-8100 (or www.oceanic.com) or check out TiVo's website at www.tivo.com.
.(JavaScript must be enabled to view this email address)
Most Recent Comment(s):
Commenting is not available in this weblog entry.