All The Buzz About 'The Conduit'

By
.(JavaScript must be enabled to view this email address)
July 15, 2009
|
Share

Del.icio.us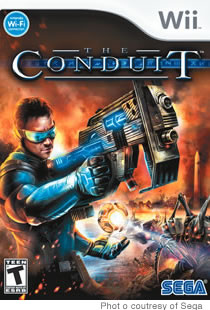 The Conduit was one of the most popular Nintendo Wii games at this year's Electronic Entertainment Expo (E3). Exclusively for the Wii from High Voltage Software and published by Sega, it has been generating lots of buzz over the past few months in the gaming community.
What's the big appeal? It's something that works for both hardcore and casual gamers.
You go through the game as Michael Ford, a Secret Service agent with a knack for hunting down hostile aliens after saving the life of the U.S. president from an assassination attempt and witnessing terrorist attacks on Washington, D.C. All this activity has U.S. agencies in an overly paranoid state as they scramble for answers.
The big appeal of The Conduit is the control functionality. You run around the game using your nunchuk's stick, aim your guns with the remote, toss your grenades by doing a throwing motion with the nunchuk, and make various other moves by hitting buttons or performing specific motions. I enjoy the capability to aim with precision to do headshots or shoot accurately at far-away targets.
Throughout the game you'll see a few different environments that include subway stations, underground government bases, war-torn streets and smelly sewers. The only problem I had is even though you see that change in scenery, each level seems to play the same way. At each level you'll end up seeing narrow corridors that could potentially make you lost if you're not paying attention, and you go from one alien battle to another. Your bug-like/robot-looking enemies hatch from eggs, and you need to hunt down the nests they come from while you're taking shots from above and things are sneaking up behind you.
Overall I can say The Conduit is definitely a great success for the Wii. Before this game came out, there was never a good first-person shooter designed specifically for the Wii. The controls are fine-tuned to make gunning down your enemies while sprinting around the battlefield easy and fun. The visuals fill your screen with enemies, explosions and lighting effects without making your frame rate drop.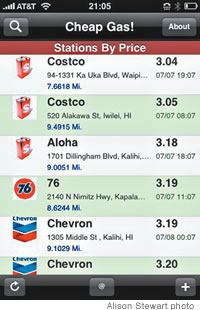 Most of all, playing the game is enjoyable.
The Conduit is rated "T" for Teen and retails for $49.99. Find it at your nearest GameStop (gamestop.com), Toys N Joys (toysnjoys.com) or Walmart (walmart.com). Visit conduitgame.com for more information on the game or to watch some footage.
Click Chick's iPhone App of the Week: Cheap Gas!
I've been using the Cheap Gas! app on my iPhone since it came out back in September of last year, but now is a good time to mention it since gas prices are creeping back up. Cheap Gas! uses station pricing from GasBuddy.com and finds the cheapest gas nearest you.
I find this app helpful to quickly spot how much gas is going for nearby. Once the gas stations around you are located, it automatically sorts your results by the cheapest first. Click on the station you're interested in and it will show you the prices of all the station's gas grades, and if you need to know where it is, the Map button will show you. It even shows the gas prices on military bases (i.e. AAFES).
Note for the iPod touch: Cheap Gas! only supports postal code searches. Find it for free at the iTunes App Store.
Most Recent Comment(s):