An Easy Way To Change Providers

By
.(JavaScript must be enabled to view this email address)
September 05, 2007
|
Share

Del.icio.us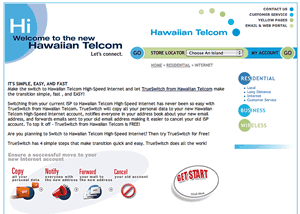 I receive questions every now and then about switching Internet Service Providers (ISP), and which one is the best, cheapest, fastest - you name it. To that I say it all depends on what you're looking for in an ISP. Some people require more speed than others. Heck, I even know of folks still using dial-up or no Internet in the home at all. Whatever your case may be now, I can tell you that if you're looking to switch ISPs any time soon, Hawaiian Telcom just announced a solution offered with their service called TrueSwitch.
"We found a way to make our best value even better by removing the barriers to switching for customers who are unhappy with their current provider," said Michael "Mac" McHale, Chief Marketing Officer. "Users no longer need to manually copy stored e-mails or address book content when they switch to Hawaiian Telcom High-Speed Internet. TrueSwitch takes care of all of that, quickly, easily and efficiently," he added.
TrueSwitch is a creation from Esaya, a leading developer of online account-switching solution. You can use it to change from most e-mail service providers, including AOL, AT&T, Gmail, Hotmail, Juno, Netzero, Yahoo! Mail and more. There are four simple steps to follow to make it happen: copy, notify, forward and cancel.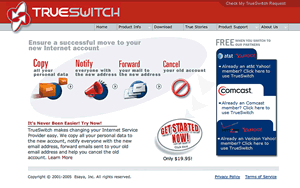 It will copy your stored e-mails, address book entries, calendar events and favorites/bookmarks to your new account. You can then have it notify your contacts by sending an e-mail to everyone listed in your address book to tell them about your new e-mail address. It can keep checking your old e-mail for up to 30 days and will forward any messages received to your new account. It will even assist you with canceling your old account.
"More than 80 percent of users are switching from one ISP to another, and more than 90 percent consider e-mail interruption as one of the greatest barriers to making a switch," said Thomas Isaac, CEO of Esaya Inc. "By offering TrueSwitch, our major partners have experienced a 28 percent reduction in new customer cancellation rates measured over a period of 90 days. We expect that Hawaiian Telcom will experience similar results," he added.
Along with TrueSwitch, Hawaiian Telcom is currently offering a promotion that includes the following:
* $9.99/month for the first three months, $29.99/month thereafter
* Download speeds of up to 3.0 Mb/sec'
* Personal website with up to 100 MB of storage
10 e-mail accounts * Free Internet Security Suite by McAfee
* 24/7 local tech support *30-day money back guarantee
For a limited time, new subscribers will receive a complimentary subscription to Netflix (valued at $59.94) with activation of a new service. To qualify for this Netflix promotion, your high-speed Internet activation needs to be done in a Hawaiian Telcom retail store or online at www.hawaiiantel.com.
Check out www.trueswitch.com for more information about the TrueSwitch platform, or call Hawaiian Telcom at 643-3456 to inquire about additional high-speed Internet service plans.
Most Recent Comment(s):