An iPhone Ahead Of Its Time

By
.(JavaScript must be enabled to view this email address)
January 19, 2007
|
Share

Del.icio.us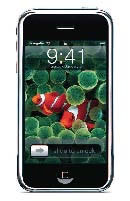 This year at MacWorld, Apple's biggest announcement was its revolutionary new mobile phone called the iPhone. After watching a complete demo of it, I was thoroughly impressed, and can honestly say that once it hits the market it will be hands-down the best phone available. In comparison to the Treo, Blackberry or any other smart phone, it makes these look very plain.
Apple's CEO Steve Jobs gave an exciting keynote speech at this year's MacWorld and said, "iPhone is a revolutionary and magical product that is literally five years ahead of any other mobile phone."
He added that "we are all born with the ultimate pointing device - our fingers - and iPhone uses them to create the most revolutionary user interface since the mouse."
The iPhone combines three products in one - a phone, widescreen iPod and an Internet communications device. Its user interface is based on a large multi-touch display and lets you control it with just the touch of your fingers. You can make a phone call by simply pointing at a name or number. The iPhone syncs all of your contacts from your PC, Mac or Internet service (i.e. Yahoo!) so that your contact list is always current.
The phone includes an SMS application with a full QWERTY soft keyboard to easily send SMS messages in multiple sessions. When you need to type, a smart touch keyboard pops up, which is predictive to prevent and correct mistakes, making it more efficient than the traditional small keyboard you would see on any other smart phone.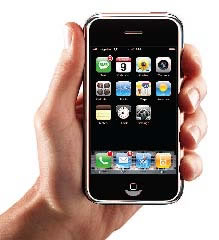 The iPhone's sensors are amazing. It senses the ambient light around you and will adjust the display accordingly. It can tell if your face is near it (if you're on the phone without the earpiece), so your face will not accidentally push any controls on the screen. Unlocking and locking the phone is easily done by just swiping your finger across the bar on the bottom of the phone's screen.
iPhone's camera is twomegapixel capable and has a photo management application that allows you to browse your library, and is synced from your PC or Mac. You can effortlessly choose one of your pictures as your phone's wallpaper, or very smoothly click and drag it into an e-mail you're composing. A calendar application syncs your calendar automatically with your computer as well.
As an iPod, the iPhone's wide screen lets you "touch" your music by scrolling through your lists of songs, artists, albums and playlists with the flick of your finger. You can browse your music library by album cover artwork for the first time on an iPod. When you navigate through your music library, you're automatically switched into the Cover Flow feature by just rotating the iPhone into the landscape position. iPhone's large 3.5-inch widescreen display gives you the ultimate portable way to watch TV shows and movies on a small device with touch controls for play/pause, chapter forward/backward or volume. You can rotate your iPhone to watch your display in either portrait or landscape. The iPhone knows which way you're turning it and automatically adjusts! It will play the same material (music, videos, movies) that you already enjoy from the iTunes Store. This online store offers more than 350 television shows, 250 feature films and more than 5,000 music videos. iPhone's third function, as an Internet communications device, has a rich
HTML e-mail client that checks your e-mail in the background from most POP3 or IMAP mail services, and displays your photos and graphics right along with the text. The phone is a multi-tasker, so you can be reading a web-page while downloading your e-mail in the background.
Yahoo! Mail is offering a new free "push" IMAP e-mail service to all iPhone users that pushes new e-mail to your iPhone automatically. You can set it up by entering your Yahoo! user-name and password. iPhone will additionally work with most IMAP- and POP-based services such as Microsoft Exchange, Apple.Mac Mail, AOL Mail, Google Gmail or other ISP mail services.
iPhone's browser is Safari for iPhone. Unlike a regular smart phone, the webpages actually appear the way they're designed to, and you can zoom in to expand any section with a simple tap. This Safari browser includes built-in Google and Yahoo! Search for you to instantly search for information on your iPhone as you would on your computer.
In addition, if you have a difficult time finding your way around, iPhone also includes Google Maps and a maps application. You can view maps, satellite images, traffic information and directions - all with iPhone's touch interface.
As much as we all want the iPhone here and now, it won't be available until June. The 4GB model will be $499 and the 8GB $599. It will be available from any Apple Store (www.apple.com) or your closest Cingular store (www.cingular.com). Cingular will be the exclusive provider for this phone.
Most Recent Comment(s):
For all comments click here.