An Online 3D Portal To The Islands

By
.(JavaScript must be enabled to view this email address)
August 11, 2010
|
Share

Del.icio.us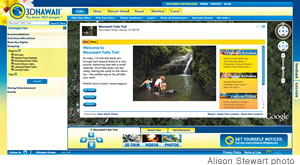 Last week I had the opportunity to sit down with Craig Carapelho, CEO of Team Vision Virtual, as he demonstrated his new website 3DHawaii.com, the first interactive, 3D travel-planning portal. This site incorporates Google Earth and provides potential visitors the most comprehensive selection of hotels, resorts, restaurants, shopping centers, beaches, parks, activities and visitor attractions.
After looking at every aspect of this site, it's apparent the massive amount of work that went into this project - many kudos to the Team Vision Virtual Team! Carapelho mentioned this was in the works for two years before they finally launched it a few weeks ago.
"We have invested in and published hundreds of high-quality 3D buildings on Google Earth, which is going to drive a substantial amount of new Web visitor traffic to our destination and our partners," he says. "For hotels and venues that choose to participate in 3DHawaii, they now have a new way of showcasing their property and an additional connection to the booking process."
The site's full interaction gives you the ability to "fly" to a location with a click of your mouse and go inside a building such as the Royal Hawaiian Hotel. There you can see the hotel, click on a live camera that you can control, book a room and see additional information/video about the property. This also is the case for just about anything across the state, but you can only book a room/activity from the paid sponsors.
Another good example is Aloha Stadium. It's so detailed that you can see the ads inside the stadium, and later this year (before UH football season starts) you'll be able to find your seat in the stadium. If you're an expert on a certain area, you can "adopt a site." When you click on the adopt link, it takes you to a screening questionnaire to make sure you're "qualified" to take on the task. This feature is a perfect opportunity for local experts to share intricate details that a visitor (or even a local who doesn't know the area) would want to know.
On the first day of 3DHawaii.com's launch, 10,000 unique visitors were logged on. For a new website, that is a great number. At the time I spoke to Carapelho, the site was up for two weeks and there were about 25,000 visitors.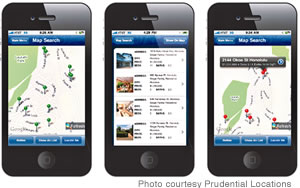 Right now there is no other site even similar to this, so it's great that we have something this cutting edge coming right out of our backyard. Team Vision is planning to launch 10 travel markets, with two cities coming out later this year. Carapelho would not give the specifics on what cities, so we'll have to be pleasantly surprised.
Additionally, an iPhone app will be launched in a few months.
Visit 3DHawaii.com to see this innovative website for yourself.
Note: You'll need to install the Google plug-in first.

Click Chick's Mobile App of the Week: Prudential Locations
I'm always looking for real estate opportunities, and thanks to Prudential Locations' new iPhone app, I now have access to the Hawaii Multiple Listing Services (MLS) right from my iPhone/iPad/iPod touch.
The app locates all homes, condominiums and land for sale on Oahu, Maui, Big Island, Kauai, Molokai and Lanai.
When you first launch the app, you need to sign in with your Prudential Locations (free) log-in. You'll then see the Main Menu, which includes Properties for Sale, Open Houses, Sold Properties and an Advanced Search. Using your iPhone's GPS and Google Maps you'll see a list of properties in the vicinity of your current location (choose to view as a list or dynamic, expanding map). Your location is indicated with a purple pin, and all the available listings come up as green pins. This function is helpful when you're driving around a neighborhood looking for houses in a particular area.
The Prudential Locations app is free and only available for your iPhone/iPad/iPod touch. Find it on the iTunes App Store or prudentiallocations.com/iphone.asp.
Happy house hunting!
Most Recent Comment(s):