An R-C Robotic Gutter Cleaner

By
.(JavaScript must be enabled to view this email address)
December 12, 2007
|
Share

Del.icio.us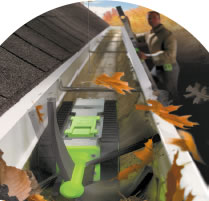 As the rainy season is upon us, and with all the windstorms we had last week, your gutter might be all clogged up with all the leaves and rubbish flying around. Fortunately, because of the lack of tall trees in my yard, I haven't seen my gutter become congested, but I know a few people who struggle with this.
For you folks who have a gutter build-up problem, iRobot's Looj is for you. With it, those pesky climbs up the ladder while having to fiddle with your equipment will be significantly reduced.
Another innovation from iRobot, the Looj is the first of its kind and is designed to simplify the difficult and dangerous job of gutter cleaning. It also was honored with the CES (Consumer Electronics Showcase) Best of Innovations Design and Engineering Award.
"iRobot's products are designed to free consumers from dull, dirty and dangerous tasks, allowing them to do more of what they want to do and less of what they have to do," says Sandra Lawrence, president and general manager of iRobot Home Robots. "We are pleased iRobot's design innovation and commitment to create a whole new category of practical and affordable household helpers, such as the iRobot Roomba, iRobot ScoobaTM and iRobot Looj, continues to be recognized by CES."
The Looj is controlled by a wireless remote that doubles as a detachable handle. It can clean an entire stretch of gutter from one location, which reduces the number of times you have to reposition and climb up a ladder. It's 2 1/4 inches high, and it easily drives under your gutter straps using its three-stage auger that dislodges and sweeps out dirt, leaves and other debris (i.e. ice dams if you live on the Mainland) that cause water damage and overspills in your gutter. Note that it will not fit in all gutters, but if yours is at least 3 1/4 inches wide, you're good to go.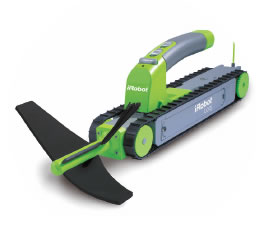 The setup is straightforward: You place your ladder at the desired point, place the Looj in your belt, climb the ladder, then put the Looj in the gutter. You drive it back and forth with your remote, and it will last you about 250 linear feet of gutter cleaning, or 30 to 45 minutes. Thereafter it takes 15 hours to charge the battery. Oh, note that it's waterproof, which makes hosing it off to clean it easy too.
Some feedback that was shared with me: It's best to use the Looj when it's dry, or when you know the leaves in your gutter are dry. The Looj does-n't perform quite up to par with wet debris. Expect to do some sweeping on the ground after the Looj does its thing. It typically shoots the contents two to three feet away from your house. Despite that, I still say it beats having to climb the ladder multiple times and risk falling, etc.
Find the iRobot Looj Gutter Cleaning Robot at www.irobot.com or on www.amazon.com. There are three different models - the basic 120 is $99.99, and includes a belt clip. The 130 is $129.99, and has a holster for hands-free transport and convenient storage, while the $169.99 150 model features the holster along with an extra battery pack and additional three-stage auger. See the website for more information and video product demonstrations.
Most Recent Comment(s):