Another Cloud To Float On From Apple

By
.(JavaScript must be enabled to view this email address)
June 15, 2011
|
Share

Del.icio.us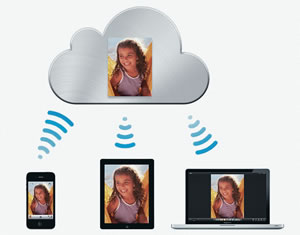 Last week Apple announced a bunch of new goodies at its World Wide Developer Conference, including the long-awaited iCloud service that will provide wireless backup and syncing for your apps, songs, documents, books, photos, videos, calendars and contacts. All this is very similar and competitive to Google and Amazon's recently released cloud services.
"Today it is a real hassle and very frustrating to keep all your information and content up-to-date across all your devices," says Steve Jobs, Apple's CEO. "iCloud keeps your important information and content up to date across all your devices. All of this happens automatically and wirelessly, and because it's integrated into our apps you don't even need to think about it - it all just works."
As with Google and Amazon's cloud services, iCloud is free and includes 5GB of storage space to use as you please. Your photos, videos, music, contacts and other files are stored on a centralized hub and accessible from any of your devices - laptop, desktop, iPad, iPhone or iPod touch. iTunes also will be in the Cloud and allows you to download your previously purchased iTunes items to all your iOS devices at no additional cost. Music that was not purchased from iTunes can be gained the same way with iTunes Match, a service that upgrades the crossover between your own library to Apple's to 256 kbps AAC files and offers the same re-downloadability to your devices. This will cost you $25 a year.
Your photos can be sent up to iCloud via the Photo Stream service and automatically uploads the photos you take or import on any of your devices and wire-lessly pushes them to all your devices and computers. Your computers will store all your photos from the Photo Stream, and iCloud will store them for 30 days, giving you ample time to connect your devices to iCloud to download your latest photos via Wi-Fi.
Most importantly, I'm happy that after years of dishing out a hundred bucks each year for MobileMe services (Contacts, Calendar and Mail), it will now be free with iCloud. Apple claims it will be re-architectured and rewritten to work seamlessly. You will be able to share your calendar with your friends and family, keep your mailbox up-to-date across all your iOS devices and your Mail account will be hosted at me.com.
iCloud will be available in the fall, but iTunes in the Cloud is available immediately and requires iTunes 10.3 and iOS 4.3.3. The iTunes Match function will be released this fall along with the rest of the iCloud functions.

Mac OS 10.7 lion: Not Just an OS on Your Computer
The other big thing that Apple announced last week is Lion, the eighth release of an Apple operating system. It boasts 250 new features. A few standouts designed to make your life easier: new Multi-Touch gestures, systemwide support for full screen apps, Mission Control (an innovative view of everything running on your Mac), the Mac App Store built into the operating system, Launchpad and a completely redesigned Mail app.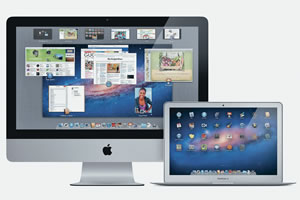 The new Multi-Touch gestures allow you to interact directly with content on your screen for a more intuitive way to use your Mac. New gestures include momentum scrolling, tapping or pinching your fingers to zoom in on a Web page or image, and swiping left/right to turn a page to switch between full screen apps. All new Mac notebooks will ship with Multi-Touch trackpads and desktop Macs can use Apple's Magic Trackpad.
Exposé, Spaces and Dashboard have been combined into one view called Mission Control. Instead of spreading out all your windows, Exposé separates them by application, making it less overwhelming when you have lots of apps open simultaneously.
Additionally, the built-in Mac App Store will have a few changes, but nothing too dramatic. Launchpad is an iOS-looking application launcher (basically a better way to launch apps), and finally, the Mail App looks more like an iPad app than the old version, making it easier to browse through your messages. These are just highlights of many more improvements.
Lion will be available in July as a download from the Mac App Store for $29.99. It's an upgrade to Mac OS 10.6 Snow Leopard, and a very small upgrade (only about 4GB).
Most Recent Comment(s):