Apple Announces Cool New Stuff

By
.(JavaScript must be enabled to view this email address)
September 08, 2010
|
Share

Del.icio.us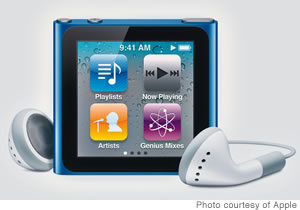 As you may have noticed, about every six months Apple announces its latest and greatest. Last week was that time again, and here's what we have this time around:
* Apple TV: For just $99, using the new Apple TV is a great way to watch your favorite HD movies and TV shows right on your TV using a tiny box. It's only a quarter of the size of the first-generation Apple TV, hence it's a streaming-only device. You can stream videos from Netflix, YouTube, Flickr and MobileMe, as well as access your music, photos and videos. Renting content from the iTunes Store starts at 99 cents.
* iPod touch: The new iPod touch is basically an iPhone 4 minus the phone. This one is even thinner than the original touch, and the main features are the Apple A4 processor, Retina display, three-axis gyroscope, 960x640-pixel digital camera (with HD video recording capability) and FaceTime video calling. Apple claims the battery life is 40 hours with music playback and seven hours with video playback on a single battery charge. Prices range from $229 (8GB) to $299 (32GB) to $399 (64GB).
* iPod nano With Multi-Touch Interface: The traditional click wheel we know and love is now gone from this nano. Apple's multi-touch interface took over, so you navigate through your music by tapping or swiping. It's about half the size of the previous version, so it can easily clip onto your clothing. There's a builtin FM radio with live pause so you can go back and resume where you left off without skipping a beat. Prices are $149 (8GB) and $179 (16GB), and you'll find it in silver, graphite, blue, green, orange and pink.
* iPod shuffle: This fourth-generation iPod shuffle is $49 and now has a VoiceOver button that allows you to hear the name of the song that is currently playing, and to switch among songs, playlists or Genius Mixes. It has 2GB of storage and the battery will last you 15-plus hours on one charge.
* iTunes 10: iTunes 10 is all about Ping, a new music-oriented social network. Similar to Twitter, you can follow your favorite artists and friends to see what they're up to and see photos and videos they've posted. You also can see tour dates and read comments about other artists and albums they're listening to. You can download this for free from Apple.com.
* OS4 Updates: Apple will release a new version of iOS4 (iOS4.1) to fix proximity sensor issues, HDR photos and offer Game Center support (for iPhone and iPod touch). Then iOS4.2 for the iPad comes out in November and adds streaming music and video from iTunes to iOS devices with AirPlay.
So there's your list of iProducts for now. Find the Apple TV and the iPods at your nearest Apple Store or online at Apple.com.
Most Recent Comment(s):