Apple Introduces Its iPad E-reader

By
.(JavaScript must be enabled to view this email address)
February 10, 2010
|
Share

Del.icio.us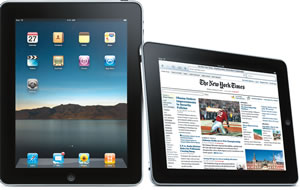 As you probably know, last week Apple announced its much-anticipated "e-reader," called the iPad. As I was watching Apple CEO Steve Jobs'announcement, I cringed when I first heard that name as it brought to mind, um, feminine products. Oh, well, it looks cool and I'm just going to have to deal with the name.
"iPad is our most advanced technology in a magical and revolutionary device at an unbelievable price," said Jobs. "iPad creates and defines an entirely new category of devices that will connect users with their apps and content in a much more intimate, intuitive and fun way than ever before."
The iPad is, as predicted, essentially a giant iPod touch, but it's 0.5 inches thick and weighs 1.5 pounds - thinner and lighter than any laptop or netbook. It has an aluminum backing with a 10-inch screen surrounded by a shiny black border. It uses the standard iPhone/iPod touch connector on the bottom, so if you have an existing iPhone/iPod touch you don't have to worry about losing another cable.
Supposedly the iPad can run all of the existing 140,000-plus iPhone apps just fine (either at the regular iPhone size or blown up double with some loss of clarity). As an e-reader, Apple will have its own e-reader bookstore when the iPad launches, but I don't expect it to have the selection (yet) or the $10 bestsellers you can find with Amazon or Barnes & Noble. Also, it's powered by A4, Apple's next generation system-on-a-chip. The A4 provides excellent processor and graphics performance, allowing up to 10 hours of iPad battery life.
Pricing isn't as bad as I thought it would be. Available in late March, the lowest models starts at $499 (16GB) and $599 (32GB), which just use Wi-Fi to connect to the Internet. If you want 3G service, the cost is $629/16GB, $729/32GB and $829/64GB. As with the iPhone, the 3G service will be provided by AT&T ($15/month for 250MB or $30/month unlimited data), but the difference is you can cancel the service at any time.
Overall, I think the iPad is a dream for e-reading and watching movies, but I don't think it can replace a computer yet. The on-screen keyboard would frustrate me after awhile, and that's one of the big complaints I hear, along with "no removable battery," "no memory-card slot" and "too expensive!" These are similar to the gripes we heard about the iPhone, but it's too early to tell. Most of the initial iPhone bashers I know now own one, so we'll see.
Apple is not quite taking pre-orders yet, but you can have an e-mail notification sent to you to let you know when it's available (http://www.apple.com).

Click Chick's iPhone App of the Week: Diving For Colors
Diving For Colors is the first locally published book to be turned into an iPhone app. App books such as these are becoming more available, and it's great that this one is homegrown! You can listen to or read the story in English or Hawaiian, turn off the sound so you can read it to your keiki, and either turn the pages manually or let it go automatically. Additionally, at the end of the book, a screen shows up with all the different creatures that appeared in the book.
My daughter is only 2 months old, and when I read it to her, she couldn't get her eyes off the colorful pictures that popped up with the story. I can't wait to see what this will look like on my future iPad - I'll probably be buying more of my children's books this way. Find the Diving for Colors app for $1.99 at the iTunes App Store.
Most Recent Comment(s):