Apple's Newest iPod Generations

By
.(JavaScript must be enabled to view this email address)
September 17, 2008
|
Share

Del.icio.us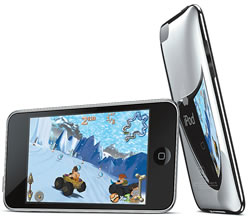 Last week Apple introduced its second-generation iPod touch, fourth-generation iPod nano and iTunes 8. That was too funny, because just a few hours before the announcement came out, a couple of co-workers were asking me questions about what I thought of the iPod touch and if they should buy one or not. Of course, I highly recommended it, but with this new announcement I'll have to tell them about the upgrade.
"iPod touch is the funnest iPod we've ever created," says Steve Jobs, Apple's CEO. "Users can listen to millions of songs, watch thousands of Hollywood movies and now, thanks to the Apple Store, download and play hundreds of great games on their iPod touch."
The new iPod touch is smaller and lighter than the original, and features integrated volume control buttons with a brilliant 3.5-inch widescreen glass display. As with the original, it can do 802.11 b/g Wi-Fi wireless networking, has a built-in speaker for casual listening, built-in accelerometer and of course Apple's signature Multi-TouchTM user interface. My favorite part about this upgrade is that it has built-in Nike + iPod support so you don't have to attach that iPod sensor to your iPod when you work out.

In addition, the iPod touch works seamlessly with the new iTunes 8 Genius feature that lets you automatically create playlists while you're on the go. A single battery charge gives you 36 hours of music playback or six hours of video playback. The 32GB model holds up to 7,000 songs, 25,000 photos or 40 hours of video, while the 16GB holds 3,500 songs, 20,000 photos or 20 hours of video, or the 8GB can carry 1,750 songs, 10,000 photos and 10 hours of video. You can purchase the iPod touch for $229 (8GB), $299 (16GB) or $399 (32GB) from your nearest Apple Store or online at www.apple.com.

iPod nano
The next in Apple's big announcement last week is the fourth-generation iPod nano. It's now the thinnest iPod ever that features a new sleek design with a curved aluminum and glass enclosure in nine vibrant colors. The nano adds on the built-in accelerometer, automatically switching to Cover Flow when rotated goes into ShuffleTM mode when lightly shaken, and as with the touch, it works with the Genius feature in iTunes 8.
"The iPod nano is the world's most popular music player and we've made it even better for this holiday season," says Steve Jobs, Apple's CEO. "We think users are going to love the amazing new design, the automatic Genius playlist creation, as well as automatically going into Cover Flow with just a turn of the wrist."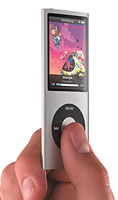 The nano comes in silver, purple, blue, green, orange, yellow, pink, red and black. Its battery gives you 24 hours of music playback or four hours of video. The 8GB is $149 (2,000 songs, 7,000 photos, eight hours of video), and the 16GB is $199 (4,000 songs, 14,000 photos, 16 hours of video). Along with the nano, you can find it at your nearest Apple Store or online at http://www.apple.com.

iTunes 8
As mentioned above, iTunes 8 is the latest release of the popular software music and video player for Macs and PCs that features Genius. It allows you to create playlists with songs in your music library, and suggests related music on the iTunes Store you may want to add to your collection.
Additionally, the new visual browsing interface in iTunes 8 displays your music and video libraries using your album and video covers, and also provides a great way to navigate your movies, TV shows, iPhone apps, podcasts and audiobooks. Download it today at www.itunes.com.
Most Recent Comment(s):