Graphics make the game

By
.(JavaScript must be enabled to view this email address)
December 14, 2007
|
Share

Del.icio.us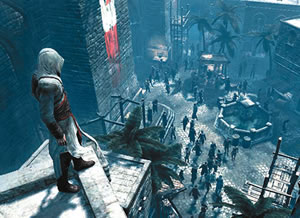 Assassin's Creed, Ubisoft's highly anticipated game title announced well over a year ago, is finally here! It's been in development so long that I remember seeing it at the Electronic Entertainment Expo (E3) in early 2006.
After all that hype I was a little disappointed with the beginning of the game. You go through a confusing sub-plot that takes place in today's world, where you're a teenager trying to sync with your ancestor to make you be a better person ... I think.
I thought that part was unnecessary, but once you pass it you go throughout the game as Altair, an elite assassin sent to stop the hostilities by suppressing the powers on both the Crusader and Saracen sides in 1191 A.D. during the Third Crusade. As an assassin, you are a warrior shrouded in secrecy and feared for your ruthlessness. Your actions have the capability to throw your immediate environment into chaos and shape the events of history.
There are lots of activities that keep you busy exploring - fly across rooftops, walk through crowds in the marketplace, listen to orators lecture or converse with drunks in alley corners. Once you do your official game tasks, you can venture off and take the optional tasks to explore everything including searching for the collectible flags scattered across the cities and countryside.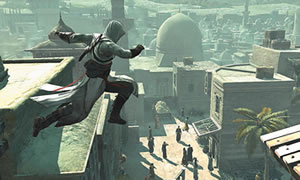 You, as Altair, explore three Holy Land cities: Jerusalem, Damascus and Acre. Each has its own personality and is broken up into three sections - poor, middle-class and rich. That's a total of nine sections for nine assassinations. You focus on getting around very stealthily.You can pounce on your enemies and, using a hidden blade, do a one-stab kill or throw daggers to take them down from a distance. Of course, your main weapon is your sword. As you go, you'll also unlock moves to use against your adversaries. Sometimes you'll have one attacker or a whole horde to fend off at one time, but you won't feel overwhelmed as you may in other games. If the gameplay becomes too much work, you can always hide in the crowds to give yourself some rest.
I reviewed the Xbox 360 version of the game, but I heard the differences between this and the PlayStation 3 (PS3) versions are minimal. Once you've unlocked all the sections of the cities you can fully appreciate flying around the cities and the beautiful scenery.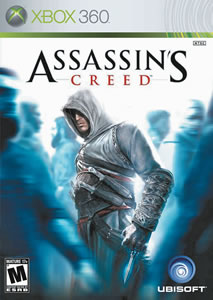 Assassin's Creed definitely has nice graphics, and if you're a detail-oriented person,you'll find it especially enjoyable since you can do so much side venturing. The storyline as a whole isn't that great, and the load times can lag at times, but my favorite part is being able to fly around the cities with ease. If you play through the main quest with no side trips, it will probably take you about 20-30 hours to complete. If you do it with all the extras, perhaps it will take about 50-60 hours to finish with all your treasures.
Assassin's Creed is one-player, rated M for Mature (ages 17+),and is $59.99 for the PS3 and Xbox 360, and $49.99 for the PC. This is an idea for a Christmas present for the adult gamer in your life. Find it online at www.amazon.com (Amazon has convenient free shipping), or your nearest CompUSA www.compusa.com) and Best Buy (www.bestbuy.com).
For more information, visit www.assassinscreedgame.com
Most Recent Comment(s):