Back-to-school computer discounts

By
.(JavaScript must be enabled to view this email address)
August 03, 2007
|
Share

Del.icio.us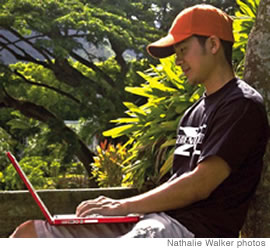 Summer is quickly coming to an end. Most schools have gone back in to session, and that means congested roads and spending money on school supplies - not only pencils, pens and paper, but computers and software too. These days computers are a vital part of your keiki's education. Some of you may not know it, but you can often receive discounts that will save you some money.
I've seen some people try to redeem an education discount just because they're college-age-looking, but failed because they did not have a student ID. Usually age does not matter, but keep in mind that you need to provide proof of eligibility - your student ID card or possibly your enrollment papers and report card.
If you're a college student, you should start at the campus bookstore. I do know for a fact that the UH Bookstore offers fairly decent discounts on computers.
Otherwise, here are a few companies that will offer you an academic discount:
* Apple (www.apple.com): Special for college students - buy a Mac before Sept. 16 and receive a free iPod nano via mail-in rebate.
* Dell (www.dell.com)
* Sony (www.sonystyle.com/campus)
* HP (www.hp.com)
* Adobe (www.adobe.com/education/purchasing)
* Microsoft (www.microsoft.com/education/studentselect.mspx)
* Various Discounts - Campus Tech (www.campustech.com)
All the companies mentioned above have multiple options whether you're a student, faculty member or a part of a school's administration staff. The discounts vary greatly depending on what you're buying.

Addicted To E-mail
With the iPhone hype still fresh in my mind, I came across the results of an interesting survey recently conducted by AOL. It stated that the majority of us Americans admit to checking our e-mail wherever we are, whether it's lying in bed falling asleep or at church. I know that's true for me. As long as my phone is with me I'm constantly checking e-mail. Since I usually receive a minimum of 200 e-mails a day, it's very efficient for me to check with my phone during my down time, such as when I'm at the gym or on my boat ferry commuting to and from work. Plus, I'm a multitasker, so I'll habitually try to do at least two things at once. The data was collected from 20 U.S. cities, and the participants were 13 years or older. From this it was determined that the average e-mail user checks his/her e-mail at least five times a day, and 59 percent of portable device users check every time a new message arrives. Of all the cities that were surveyed, Washington, D.C., is the most e-mail addicted, where almost 82 percent of the residents have multiple e-mail accounts.
So, if you think you're an e-mail addict, you're not alone. It's apparently very normal. As for myself, between my workplaces and home I have eight e-mail accounts! That's probably more than the average person, but it sure keeps me busy.
Most Recent Comment(s):