Banking With Your Cell Phone

By
.(JavaScript must be enabled to view this email address)
August 22, 2007
|
Share

Del.icio.us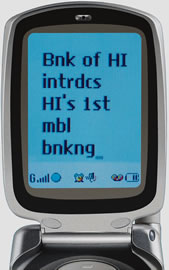 I remember the old days at the bank when you had to stand in line just to deposit your paycheck or make a withdrawal. I'm talking about before ATM machines were around or the capability to do direct deposits. Back then I was happy when phone banking was invented. What an innovation that was. You could check your account balance without the long line! Following that, just a few years ago, it seems, online banking came into play. Personally, that significantly changed my banking habits.
With all that in mind, last week Bank of Hawaii announced Hawaii's first wireless mobile banking service, e-Bankoh Mobile. What makes this different from regular Internet banking on your computer is that this is optimized to use directly on your phone.
Al Landon, Bank of Hawaii chairman and chief executive officer, said, "As a leader in banking technology, we're dedicated to bringing the best in convenience and service to our customers. Bank of Hawaii was the first to offer online banking in Hawaii, and now we're pleased to be the first in the state to introduce mobile banking for our customers."
With the online banking feature, e-Bankoh Mobile allows you to see account summaries, account transaction history, make transfers, pay bills and view/cancel bill payments. As a concerned consumer, I know this service fully incorporates the use security protocols and encryption. A secure Sign On process ensures no unauthorized access to your account, and a built-in session time-out after five minutes provides additional security.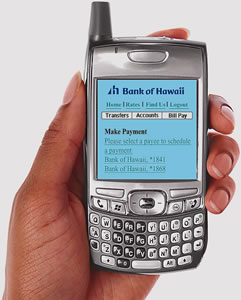 Logging in with your phone gives you online access to the mobile-enhanced Bank of Hawaii website. It allows you to easily view branch and ATM locations, interest rates and services. You can also request "on-demand" bank text messages for account balances and your three most recent transactions. You don't actually need an Internet-enabled device for this.
Bank of Hawaii's new service is possible because of its partnership with MShift Inc., a provider of mobile banking solutions. MShift chief executive officer Awele Ndili, Ph.D., stated, "We are proud to partner with
Bank of Hawaii, and thrilled to be the first to deploy in Hawaii. Bank of Hawaii demonstrates its innovation and leadership in deploying this state-of-art mobile banking service to its customers," he added.
You can use e-Bankoh Mobile with your iPhone, Blackberry, Palm or Pocket-PC PDA. For more information, check out www.boh.com/mobile. If you're a Bank of Hawaii customer, take advantage of the free eBankoh Mobile service from your mobile device directly at mobile.boh.com.

Hurricane Scare
As we experienced the earthquake in October 2006, and last week, the Hurricane Flossie scare, Hawaiian Telcom is encouraging everyone to have a corded phone as a part of your hurricane readiness kit.
"We encourage everyone to consider a corded phone as a Hurricane Kit essential," said Michael "Mac" McHale, Hawaiian Telcom senior vice president and CMO. "A phone that's not powered by electricity should be a basic, alongside a battery-operated radio, flashlight and bottled water. This type of phone, plus reliable landline service, will help keep Hawaii residents connected in emergency situations like hurricanes."
Hawaiian Telcom stores are offering Slimline cord phones for $5 each. See www.hawaiiantel.com for more information. .(JavaScript must be enabled to view this email address) www.click-chick.com
Most Recent Comment(s):