Becoming A Comic Book Artist

By
.(JavaScript must be enabled to view this email address)
August 18, 2006
|
Share

Del.icio.us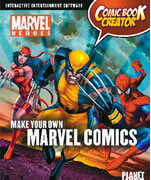 While I was growing up (and sometimes nowadays) I enjoyed reading a good comic book. Although I was never really good at it, I used to draw often, make attempts to duplicate my favorite comic book characters on paper, and give multiple copies to family members. Well, since I discovered at an early age that I'm no artist, and no comic book artist at that, I truly appreciate Planetwide Games' Comic Book Creator software, which allows me to do it all on the computer without lifting a pen (or crayon).
Comic Book Creator gives you the ability to create customized comic books using your own pictures or screenshots, and now, Marvel characters. Under a special agreement between Marvel Comics and Planetwide Games, Marvel Heroes Comic Book Creator was created. Some of the characters to be included are X-Men, Spider-Man, Fantastic Four, Hulk, Daredevil, Ghost Rider, The Punisher, Captain America, Thor, The Avengers and Dr. Octopus. Future additional booster packs will include Marvel Retro, Spidey and Friends, and more Ghost Rider collections.
Marvel Heroes Comic Book Creator is a simple and easy-touse self-publishing software. It puts you in the Marvel artist's seat as you
import authentic Marvel Heroes digital images and content to create personalized comic books and strips. You can create your unique Marvel stories by easily dropping and dragging the images into the boxes. You can then let your creativity flow when you add in your text bubbles. Your visions will come to life onscreen in a matter of seconds. This also goes for the regular Comic Book Creator as well. You can tell an entire story with the pictures you took from the last party. It's a fun thing to print out and show to your friends. You can also make a PDF of the entire comic book and share it via e-mail or on your website/blog.
"Marvel heroes are some of the most recognizable and beloved characters in the history of entertainment," said
Kevin Donovan, president of Planetwide Games. "By marrying Marvel's pantheon of heroes with our original 'Comic Book Creator'self-publishing software, we are making it possible for legions of fans to tap their own creativity in creating professional-quality digital and homemade comic books with authentic Marvel Comics art for their personal enjoyment."
If you are a big Marvel fan, the Marvel Heroes Comic Book Creator adds a complementary interactive entertainment experience to your Marvel video games and your Marvel movies. Other available software from Planetwide Games includes Virgin Comics Comic Book Creator, Sony Online Entertainment Comic Book Creator, National Geographic Kids Comic Book Creator, and Nacho Libre Comic Book Creator. If you're a teacher, these software packages are a great way to motivate your students and pique their interests, and simultaneously assist in literary skills, creativity and publishing.
All versions of Comic Book Creator offer you about 100 layout templates to choose from, including front and back covers. Unfortunately, you cannot create your own template. But, if the 100-plus aren't enough, there will be more available in the near future. Upcoming Comic Book Creator editions will include audio, video, animations and flash animations to create a new dimension of "HyperComics" advanced Web 2.0 style interaction.
Overall, this software is definitely fun to play with, and I would recommend this to anyone with keiki, or if you're a keiki at heart. Although I do admire the Marvel characters, I had the most fun with putting in pictures, and adding humorous comments into the text bubbles next to my friends'photographs.
Marvel Heroes Comic Book Creator is available for your PC only (no Mac version), and you can find it starting next Friday (Aug. 25). Visit http://www.mycomicbookcreator.com/marvelheroes to purchase it for $29.99. You can also download a free 30-day trial version of Comic Book Creator to test the waters. It will let you do everything except publish/print your creation.
Most Recent Comment(s):