Becoming A Halo 3 Beta Tester

By
.(JavaScript must be enabled to view this email address)
January 10, 2007
|
Share

Del.icio.us
Lately I've received many questions about Halo 3. Especially with the popularity of Halo and Halo 2, people are eagerly awaiting Halo 3. Some very happy troops overseas already received a sneak peek of the Halo 3 beta over the holidays. I signed up to be a beta tester myself awhile ago for this hit game, but I guess I should "spread the aloha" and share how you too can beta test Halo 3 before it comes out officially.
Halo 3 is the third part in the Halo Trilogy, and will provide you the thrilling conclusion to the events that began in Halo: Combat Evolved, and pick up where Halo 2 left off. The Master Chief is returning to Earth to finish the fight. The Covenant occupation of Earth has uncovered a massive and ancient object beneath the African sands - an object whose secrets have yet to be revealed. Earth's forces are battered and beaten. The Master Chief 's AI (Artificial Intelligence) companion Cortana is still trapped in the clutches of the Gravemind. A horrifying Flood intelligence, and a civil war is raging in the heart of the Covenant. This is how the world ends ...
Sounds exciting eh? Well, the first wave of beta registrations came and went more than a month ago, but if you didn't already register, you have another opportunity. All you need to do is play a minimum total of three hours of Halo 2 multiplayer sessions on Xbox Live (on your Xbox 360) between 12:01 a.m. EST / 7:01 p.m. HST, Feb. 1 and 11:59 p.m. EST/6:59 p.m. HST, Feb. 3. You can then go to http://www.halo3.com for a chance to become a beta participant. There is no 100 percent guarantee you'll make it, but if you follow the above criteria exactly, and are among the first 13,333 players to register at the site, you'll have a really good chance.
If you're unable to squeeze your way in on that first option, a way to throw yourself into the Halo 3 realm is to buy a specially marked box of Crackdown (Rated M for Mature) on Feb. 20. This will assure your beta status. Look for it in your closest GameStop, CompUSA, Best Buy or Wal-Mart for $60. You can also pre-order it now at http://www.gamestop.com or http://www.walmart.com. The Halo 3 Multiplayer Beta is slated to arrive this spring. The game is developed by Bungie Studios and published by Microsoft Game Studios exclusively for the Xbox 360.
The release date of the full version and the rating are both pending. If you're interested, good luck and have fun saving the world!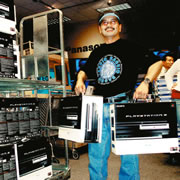 Many people have been asking me about where to buy a PS3: "Does any store have them? Is there a way I can get one?" The answer is I don't know, you just have to keep on checking. But I happened to be at the Navy Exchange (NEX) last week and witnessed a much-coveted shipment of 30 PlayStation 3 (PS3) 60 GB units being placed on the floor. Daniel Carbonel (pictured above, right) was one of the lucky folks to snag not one, but two. "I'm getting one for me and one for my grandson," he said with a huge smile on his face.
My husband and I watched as those PS3s moved off the rack like hotcakes, and they were all gone in about an hour. Those of you out there still trying to find a PS3, don't give up hope. You just have to be in the right place at the right time. In fact, early last week I received a call from a very excited friend saying he was at Best Buy purchasing his new PS3. They're all over ... it's just your timing.
Most Recent Comment(s):