Brandishing Sony's Heavenly Sword

By
.(JavaScript must be enabled to view this email address)
September 21, 2007
|
Share

Del.icio.us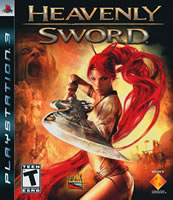 Ever since I saw it at the Electronic Entertainment Expo in 2006, I've had my eye on Sony's PlayStation 3 (PS3) game Heavenly Sword. It's been a long wait with much anticipation for many PS3 owners, but it's finally here since the release last week.
The game's style slightly reminds me of God of War-type gameplay. If you've played it you know exactly what I'm talking about - first person, action-adventure, while you use different button combos to perform fancy moves.You play through the game as Nariko, the daughter of the clan's leader, Shen. This clan is a warrior group that guards the famed Heavenly Sword, and you are the prophesied child, but ashamed of by the group since you're a girl. Despite that, while growing up, your father still chose to train you as a warrior.
Those fighting skills come in handy after King Bohan, a ruthless man trying to capture the Heavenly Sword, invades your clan. Once he kills your father at the beginning of the game, this is the start of your wrath on King Bohan and his henchmen.
The first thing to catch my eye with this game are the graphics. Everything looks so picturesque and you can see the characters' faces clearly, especially Nariko. You can see all the intricate details of her face and attire, especially her long, flowing red hair.
The Heavenly Sword you bear as Nariko transforms into three distinctive weapons - speed, range and power attacks, also known as stances.
Each is unique and used according to what type of adversary you're fighting. The speed stance is your default, which you can use to unleash speed assaults. The range stance lets you use chain attacks for weaker enemies to deflect arrows flying at you. Last but not least, the power stance allows you to deliver slow, yet extremely powerful blows to the stronger guys, and allows you to block them. You'll know when they're about to attack when you see an orange glow around them (or a blue glow for the weaker folks).
As you progress through the game and gain experience, you'll unlock new combos and attacks. There are a total of nine Superstyle attacks, three for each stance.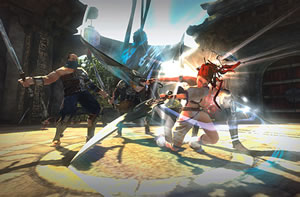 Varying the use of the three attack types to the specific enemy-type is vital since they're the quickest and most efficient way to defeat your enemy. Playing with the various combos keeps the game interesting as you're fighting off thousands of enemies.
My favorites are the aerial combos. You can jump up, knock your adversaries off their feet and sort of fly through the air. This is one of the things you can do to take advantage of your PS3 controller's SIXAXIS motion control feature.
Additionally, you can use the SIXAXIS when you're throwing or launching an object, and shooting arrows. Once the object flies out of your hands, the screen follows it and you can move it left or right, up and down according to where your target is. Don't expect it to be as a Nintendo Wii controller is - the movement is very subtle in comparison.
Through the game you'll also see Kai, Nariko's odd sister. She is not quite as strong or experienced enough to fight on the same level as you, but she can do her own tricks. With her, you can use the SIXAXIS to control the arrows shot from her bow.
Overall I think Heavenly Sword is awesome! From the storyline to the graphics, to Nariko's moves, this game will keep you interested. The game did take about four years to make, so I wouldn't expect anything less. My only complaint about it is that it was incredibly fast to finish - roughly six to eight hours total. Your finish time will depend on how fast you pick up on the gameplay. On the positive side, after you finish the game the first time you can unlock the Hell Mode, and go back and replay everything using this harder mode.
You can find Heavenly Sword for $59.99 at your nearest CompUSA (www.compusa.com), Best Buy (www.bestbuy.com) or GameStop (www.gamestop.com). Note that it's rated T for Teen, one-player all the way, and only available for the PS3.
Most Recent Comment(s):