Brawl-ing on your Wii

By
.(JavaScript must be enabled to view this email address)
March 21, 2008
|
Share

Del.icio.us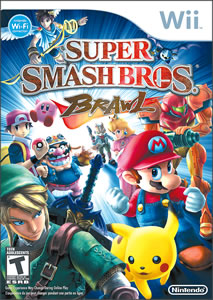 Released last week exclusively for the Nintendo Wii, Super Smash Bros. Brawl is one of the most amusing games I've played in awhile. From the moment I first heard about it, I knew it was a must-have game for my Wii.
This is an action-fighting game that has just about every Nintendo character in existence. You can choose your favorite character and square off against a friend or a Wii CPU opponent for fight practice, or you can go through the game in the adventure mode, known as The Subspace Emissary. Here, you can't choose your guy, but you play it out as different characters and duke it out with members of the Ancient Minister's army of creatures (The Primid). Every once in awhile, between duels, you see short cinematics pop up starring your characters.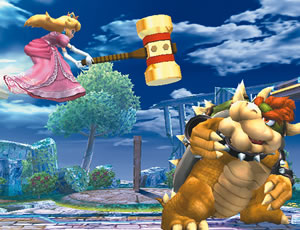 These creatures come alive to do battle and are turned back into trophies when you defeat them. The Ancient Minister turns the characters into trophies to harness their power, and detonates bombs that suck pieces of the world back into his realm of Subspace. Eventually all the characters must work together to defeat the invaders, and you do this by playing through the side-scrolling levels.
I cracked the game open together with my husband; I played my favorite character, Pikachu, against his Donkey Kong. My little yellow dude was able to beat up that gorilla pretty good (with my help, of course). After a few minutes of fighting each other there, we switched over to play co-op in The Space Emissary mode.
The first things I noticed were the colorful graphics and sharpness of the characters. There are a total of 35 characters, 14 of which you have to unlock since they are hidden. Besides Pikachu (from Pokemon) and Donkey Kong, some others you'll see are Mario, Kirby, Samus, Bowser, Link, Meta Knight, Zelda, Wario and Yoshi (another one of my faves). You'll also see third-party, non-Nintendo characters such as Sonic the Hedgehog or Solid Snake (from Metal Gear Solid). Each has its own signature fighting styles and moves. My favorite part of the Pikachu guy is his ability to shoot out jolts of electricity. Those electrical shocks to your enemies seem to be an effective way to defeat them.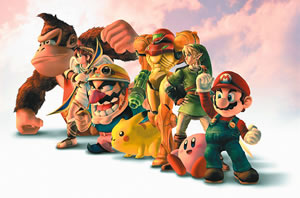 Booting your enemies out of the arena is always the goal. You'll see percentage boxes at the bottom of the screen - the higher the number, the farther you'll fly when you're hit.
You want to keep the number down for yourself and up for your enemy. Throughout combat, various items will spawn for you to pick up and use as weapons: baseball bats, flowers, boxes to throw or a sword.
The amount of unique battlefields and the game's selection of 100+ Brawl-composed songs is another plus to the game. Some of the more well-known song composers include Koji Konda (Super Mario Bros.), Yasunori Mitsuda (Chrono Trigger) and Yoko Shimomura (Kingdom Hearts). In addition, the game is somewhat customizable, from the frequency of item appearances to musical scores to online matches. You can have up to four people play online or two in your living room. To finish the entire thing (for The Subspace Emissary), you'll need approximately eight to 10 hours. It's probably better to go through it with a partner - it's easier to finish off the enemies that way.
Super Smash Bros. Brawl is a must-have for all Wii-owning Nintendo fans. The simple controls and gameplay make it easy enough for beginners and Smash Bros. experts alike to enjoy this game. Most of the game-play (including online) is lag-free, and you can share screenshots, custom levels and game replays with your friends. You won't hear much talking from the characters, but the graphics are fairly sharp (probably the best I've seen yet on the Wii). It is rated T for Teen and you can find it at your nearest GameStop (www.gamestop.com), Best Buy (www.bestbuy.com) or www.amazon.com for $49.99.
Most Recent Comment(s):