Bringing VUDU Magic To Hawaii

By
.(JavaScript must be enabled to view this email address)
December 19, 2007
|
Share

Del.icio.us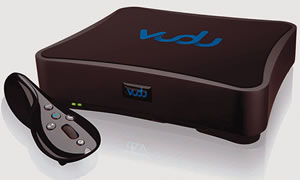 In the past couple years I've switched between Netflix and Blockbuster's online service. The two companies have been so competitive with each other, it's been difficult to decide which to stick with. Then there's the Bluray vs. HD-DVD war. Decisions, decisions, decisions.
Here to give you another choice is VUDU.
It's a little box that offers you instant access to about 5,000 movies - from mainstream blockbusters to independent films and more are added every week. The best thing about it is these movies are offered to you in High-Definition (HD). There are no activation or subscription fees, and the rental prices range from 99 cents to $3.99, or $4.99 to $19.99 for purchase. The VUDU interface reminds me of the TiVo Digital Video Recorder, probably because VUDU was designed by a group of former TiVo engineers.
Hawaiian Telcom just announced it will be testing VUDU's video-on-demand (VOD) service in Hawaii.
"When powered by Hawaiian Telcom High-Speed Internet service, particularly the 7 or 11 Mbps service, the VUDU experience is incredible," says Hawaiian Telcom vice president-sales and marketing, Tom French. "We're delighted to introduce Hawaii to this exciting new service just in time for the holidays."
Measuring in at about 2 inches high by 8 inches wide, the VUDU box is very small and can easily hide in the midst of all your other home entertainment equipment. It reminds me of a slightly bigger but black Apple TV or Mac Mini. For your HDMI output, you can specify 480i, 480p, 720p, 1080i or 1080p resolutions. If you have an older TV, it also has composite and S-Video outputs. It connects to the Internet directly through Ethernet (no WiFi), and has a USB port for future expansion. You'll see a little antenna on the back too. At first I thought it was for Wi-Fi, but it's actually for the radio frequency (RF) remote control, so you don't have to worry about controlling it via line-of-sight only.
The built-in hard drive is 250GB, so you can store a few movies on there (about 100 hours'worth). When you rent, you have 30 days to watch the movie before it disappears off the box.
But once you start watching it, your viewing period is only 24 hours. VUDU has deals with just about all the major studios out there - Disney, Fox, Sony, Lionsgate, Warner, Paramount, Universal and more smaller ones. There will be about 10 to 20 new movie titles added each week, with TV shows to be added soon as well.
"VUDU delivers what other companies dream about - instant digital gratification. We're pleased to partner with Hawaiian Telcom to bring the next generation of video-on-demand service to the Islands," says VUDU executive vice president-sales and business development, Tony Miranz. "Our service is about simplicity, convenience and maximizing the value of a quality broadband connection like Hawaiian Telcom's High-Speed Internet." VUDU is a great idea, and I enjoy the instantaneousness of it with its smooth interface, and it definitely has a great deal of potential. My small complaint is that it does not have any subtitles available (available only for foreign films). Since I'm partially deaf in one ear, I use the subtitles that come with DVDs. Additionally, it would be nice if you could transfer the movies onto an external drive to watch on your computer (since you already own it), and I think the pricing might be a little better value if it were subscription-based instead of pay-per-movie. Despite that, this is the ultimate tool for the lazy movie lover, and the closest you'll come to Blockbuster or Netflix in your living room without having to physically go to the store or walk to the mailbox.
A special promotion is being offered to existing Hawaiian Telcom High-Speed Internet customers: The VUDU box (with remote control) will cost you $199 until Feb. 8. Otherwise, the retail price is $399 for non-Hawaiian Telcom customers or if you buy from VUDU's web-site (www.vudu.com). Either way, each new VUDU includes $50 credit toward movie rentals or purchases.
Purchase your VUDU from Hawaiian Telcom's Kapiolani, Kapolei or Windward Mall stores to receive the special price, or to see a demo. At these stores you also can enter to win a free VUDU (entry deadline is Jan. 31, 2008).
Most Recent Comment(s):